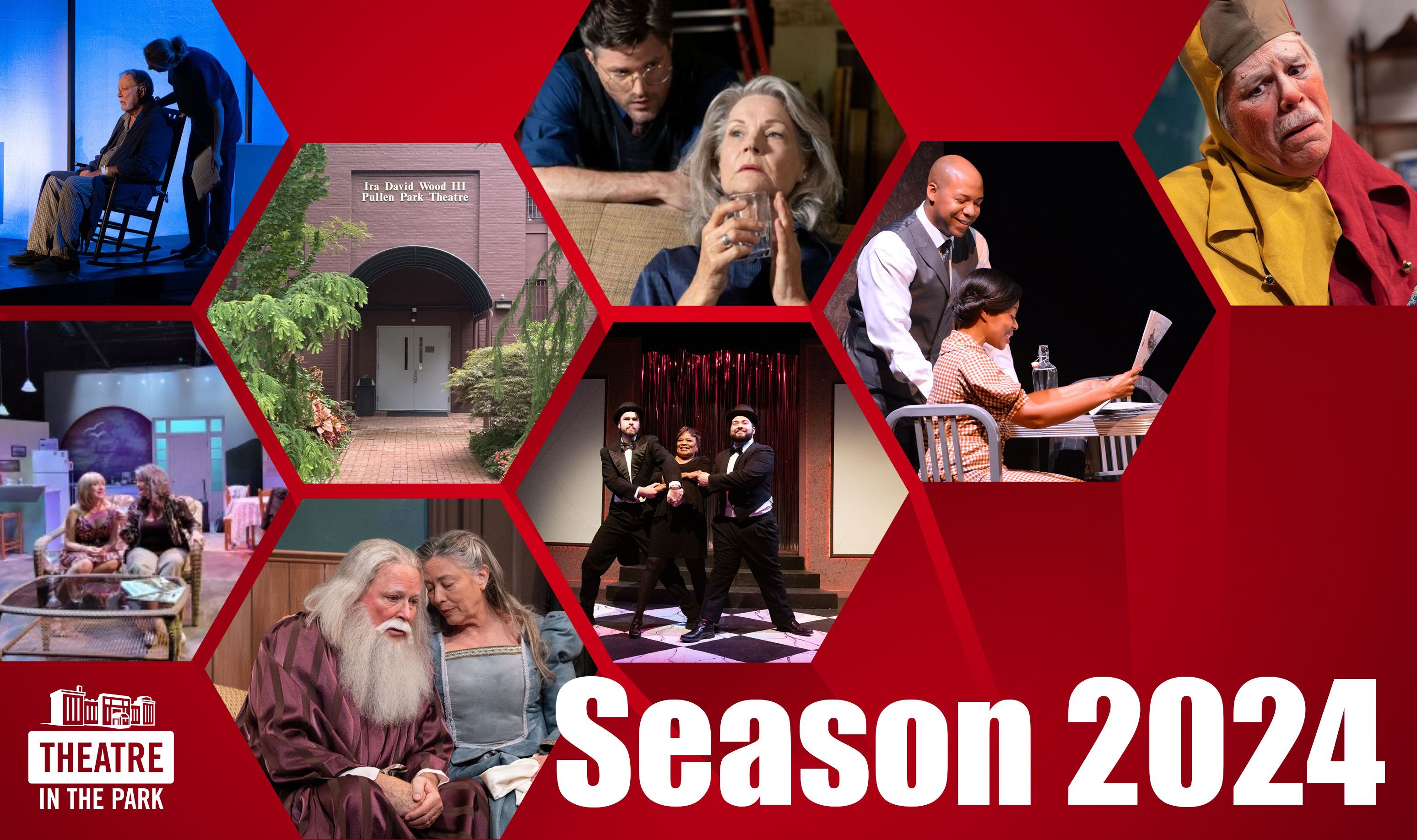 Welcome to Theatre In The Park's 2024 season! Please explore what we have to offer below.
2024 Mainstage Season
---
Harold and Maude
Written by Colin Higgins
February 15-17, 22-24 at 7:30 PM | February 18 & 25 at 3:00 PM
This 'offbeat, upbeat comedy' is about Harold, a troubled 19-year-old, who finally learns how to truly live when he meets a delightfully wacky and deliciously eccentric octogenarian, Maude. Harold's self- attained alienation has caused him to cry out for attention in an escalating series of strange scenarios. His peculiar attachment to Maude, whom he meets at a funeral (a mutual passion), is what ultimately saves him and what thoroughly captivates the audience. This stage version of Harold and Maude will certainly delight both aficionados of the film and newcomers to the story.
Into The Woods
Written by James Lapine and Stephen Sondheim
April 18-20, 25-27 at 7:30 PM | April 21 & 28 at 3:00 PM
Beloved, epic adventure musical by Stephen Sondheim and James Lapine. The Brothers Grimm hit the stage with an epic fairytale about wishes, family and the choices we make. This production will fall under our "musical" category for single ticket pricing.
Henry V
Written by William Shakespeare
June 20-22, 27-29 at 7:30 PM | June 23 & 30 at 3:00 PM
Shakespeare's thrilling study of nationalism, war, and the psychology of power. Fresh to the throne, King Henry V launches England into a bloody war with France. When his campaign encounters resistance, this inexperienced new ruler must prove he is fit to guide a country into war. Full of action and the electrifying language that marks Shakespeare at his height, Henry V is an unflinching look at warfare and power, and a rousing portrait of courage against all odds.
By the Way, Meet Vera Stark
Written by Lynn Nottage
August 15-17, 22-24 at 7:30 PM | August 18 & 25 at 3:00 PM
In a new comedy from the Pulitzer Prize-winning playwright of Ruined, Lynn Nottage draws upon the screwball films of the 1930s to take a funny and irreverent look at racial stereotypes in Hollywood. By The Way, Meet Vera Stark is a seventy-year journey through the life of Vera Stark, a headstrong African-American maid and budding actress, and her tangled relationship with her boss, a white Hollywood star desperately grasping to hold on to her career. When circumstances collide and both women land roles in the same Southern epic, the story behind the cameras leaves Vera with a surprising and controversial legacy scholars will debate for years to come.
The 39 Steps
Adapted by Patrick Barlow from the novel by John Buchan
October 17-19, 24-26 at 7:30 PM | October 20 & 27 at 3:00
Mix a Hitchcock masterpiece with a juicy spy novel, add a dash of Monty Python and you have The 39 Steps, a fast-paced whodunit for anyone who loves the magic of theatre! This two-time Tony and Drama Desk Award-winning treat is packed with nonstop laughs, over 150 zany characters, an onstage plane crash, handcuffs, missing fingers, and some good old-fashioned romance!