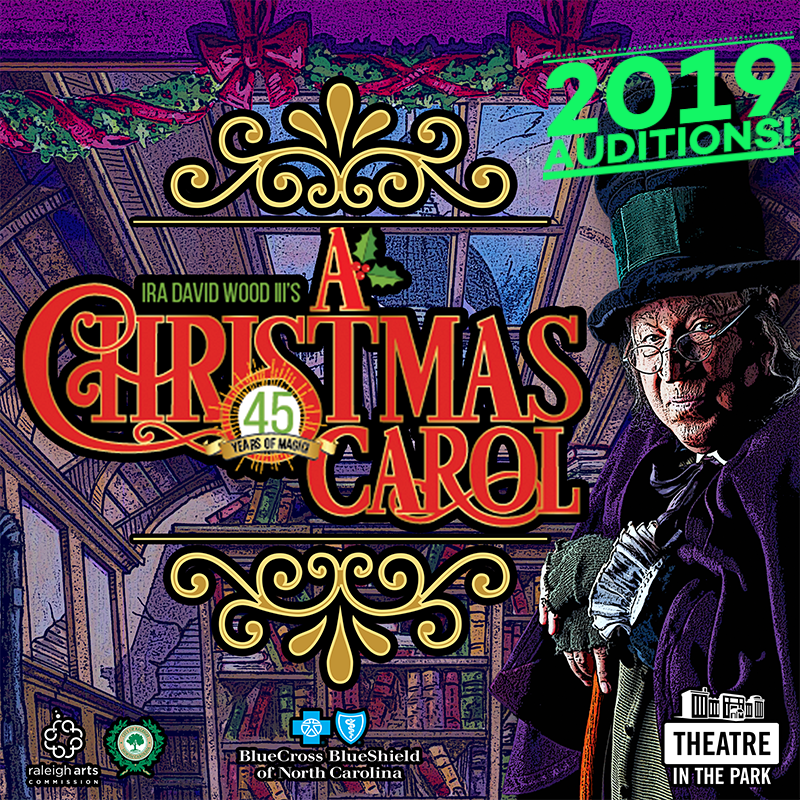 Announcing auditions for the 45th annual production of Ira David Wood III's A Christmas Carol - produced by Theatre In The Park!
​​
A CHRISTMAS CAROL VOCAL AUDITIONS​​
September 14-15 1:30-5:30pm - Children 12 and under ​​
September 21-22 1:30-5:30pm - Children 13 and over and Adults ​​
​​
Vocal Auditions will take place at: ​​
Stage Door Dance: Lake Boone ​​
4035 Lake Boone Trail (Located in between The Oak & Bliss Body Yoga, facing Lake Boone Trail) ​​
​​
Auditions are by appointment only. Please fill out this form to reserve your audition slot.​ If you are signing up other people along with your audition, you will need to fill out this form for each of them individually. The time slots listed are the only available times. We are not planning on extending this schedule. If you have an emergency please let us know and we will do our best to work with you, but please understand we only have so much flexibility available in our tight production schedule.​
​​
If you have a headshot and resume, please bring them to the audition. Please note these are not required. ​​
​​
To audition please prepare one verse of an up-tempo song. An accompanist will be provided. We do require you to have sheet music for the accompanist. A cappella auditions are not accepted for this particular musical -- we need to hear you with the piano. MusicNotes.com is a great resource for affordable sheet music that you can print right from your computer. ​
​​
Adults and teens should be prepared to participate in a short bit of basic choreography. Please dress accordingly. ​​
​
​​
A CHRISTMAS CAROL DANCE AUDITIONS ​​
Friday, September 20th at 6:30PM ​​
​​
Dance Auditions will take place at:​​
Stage Door Dance: Brier Creek ​​
2720 Godley Lane Raleigh, NC 27617 ​​
​​
Strong male and female dancers ages 14 and over. Dance roles include dancers who are strong in jazz, tap, and ballet. You may audition for all three or just your strongest concentration. Please wear comfortable attire that you can move in. Acrobatic and partnering skills a plus! ​
​​
Please arrive at 6PM to fill out paperwork and warm up. Dance auditions are an open call and no appointment is necessary, but dancers are strongly encouraged to sign up for vocal auditions. ​​
​​
We welcome any questions you might have. Please email Brent Simpson, brent@theatreinthepark.com or give us a call at 919-831-6936 and we will get back to you ASAP.​​
 ​​
Theatre In The Park is dedicated to casting the best actors for each role regardless of gender, ethnicity, sexual orientation, body type, or age. Theatre In The Park strives to be inclusive and accommodating to people of all abilities, please let us know if we can make something more accessible. TIP will respect everyone's preferred pronouns. ​​
​​
Please note the following roles have been precast:​​
Scrooge​​
Marley​​
Christmas Present ​​
​​
Thank you for your consideration, we can't wait to see you!

Click here for show information
---
Click here to join our audition mailing list