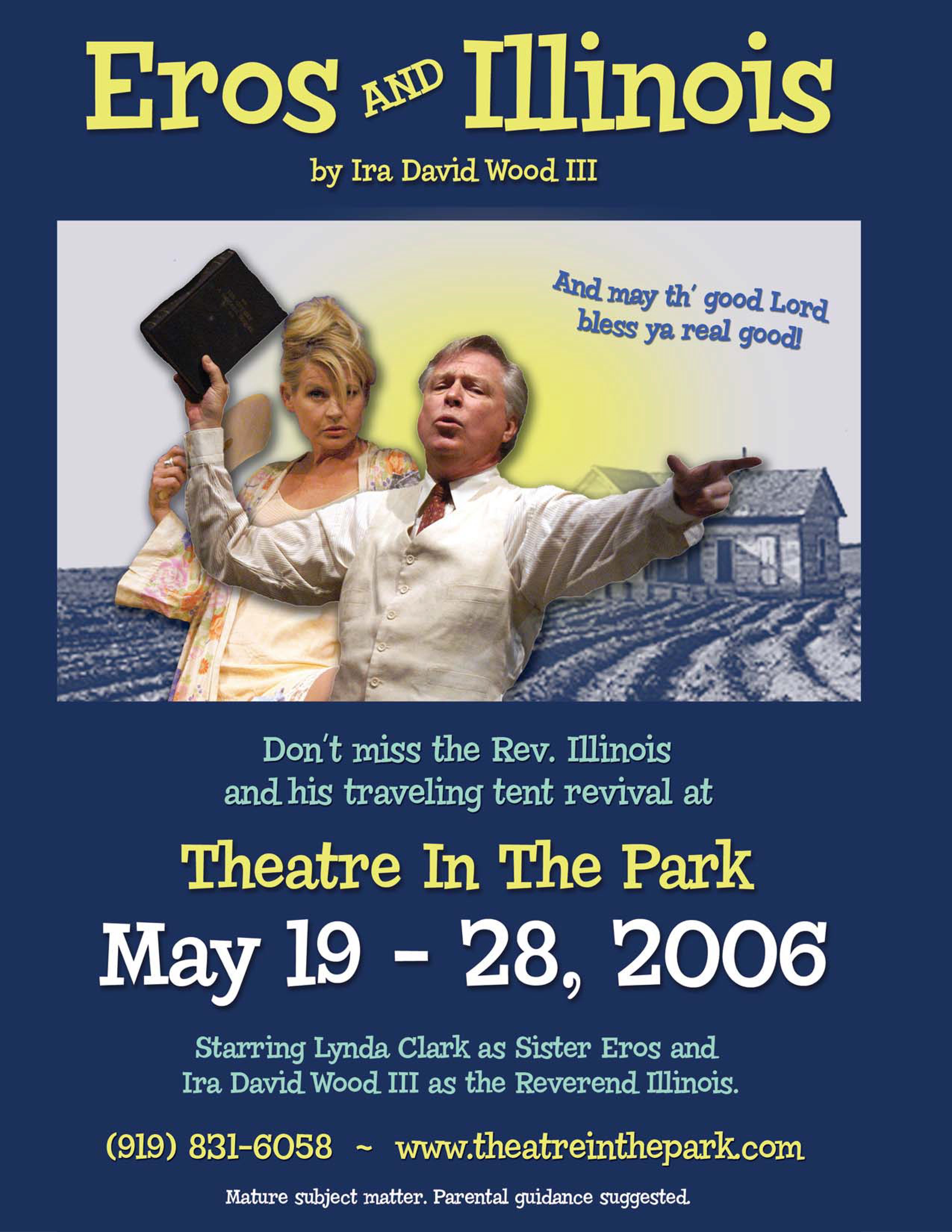 Eros & Illinois
by David Ira Wood III
EROS & ILLINOIS - an original comedy by Ira David Wood III centers on the hilarious misadventures of a flimflam faith-healer and his "Crusade Of Light" as he and his cohorts move into the mountains of Buncombe County during the Great Depression. In the midst of a successful scam, Rev. Illinois actually heals a crippled man, and ultimately discovers that God has a unique sense of humor.

When it first premiered at Theatre In The Park, reviewer Hal Crowther wrote that this "... parody of the Bible Belt evangelism [is] so dead-on that I'll measure anything I see on the subject in the future against Wood's creation ... some of the best indigenous theatre you're ever going to encounter."

Eros & Illinois played at New York's Park Royal Theatre in 1980 and also at The Marilyn Monroe Theatre in Los Angeles. We're thrilled that it's coming back home to North Carolina.

Featuring: Lynda Clark (Eros); Ira David Wood III (Illinois); Danny Norris (Louis); Mike Rabb (Sweet Pea); JK Ferrell (Sheriff J. Edward Burch); Scotty Cherryholmes (Rev. Hiram Sinclair); Kathy Norris (Sadie Riggs); Jillian Voytko (Hassie Riggs); and Sam Whisnant (Virgil Tippette).

PERFORMANCE SCHEDULE Friday, May 19 at 8 PM (opening reception) Saturday, May 20 at 8 PM Sunday, May 21 at 3 PM Thursday, May 25 at 8 PM (audio description) Friday, May 26 at 8 PM Saturday, May 27 at 3 PM & 8 PM Sunday, May 28 at 3 PM