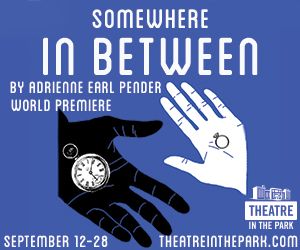 Somewhere In Between
by Adrienne Earl Pender
The World Premiere Of An Engrossing New Drama
Marcus and McKenna Hahn seem to have the perfect marriage, but when Marcus suddenly passes away, McKenna has to pick up the pieces of her shattered life.
With friends and family pulling her in different directions, it is the arrival of a stranger with a secret who seems to be the only one McKenna can connect with.
Twists are turned and shocking secrets are revealed as McKenna discovers that the truth always lies somewhere in between.  Click Here to listen to WUNC's The State of Things interview with Adrienne Earle Pender and the cast!
Meet The Playwright, Adrienne Earle Pender
Somewhere In Between #2 from Theatre In The Park on Vimeo.
Sept, 2014

12-13, 18-20, 26-27
7:30pm
Theatre In The Park

Sept, 2014

14, 21, 28
3:00pm
Theatre In The Park