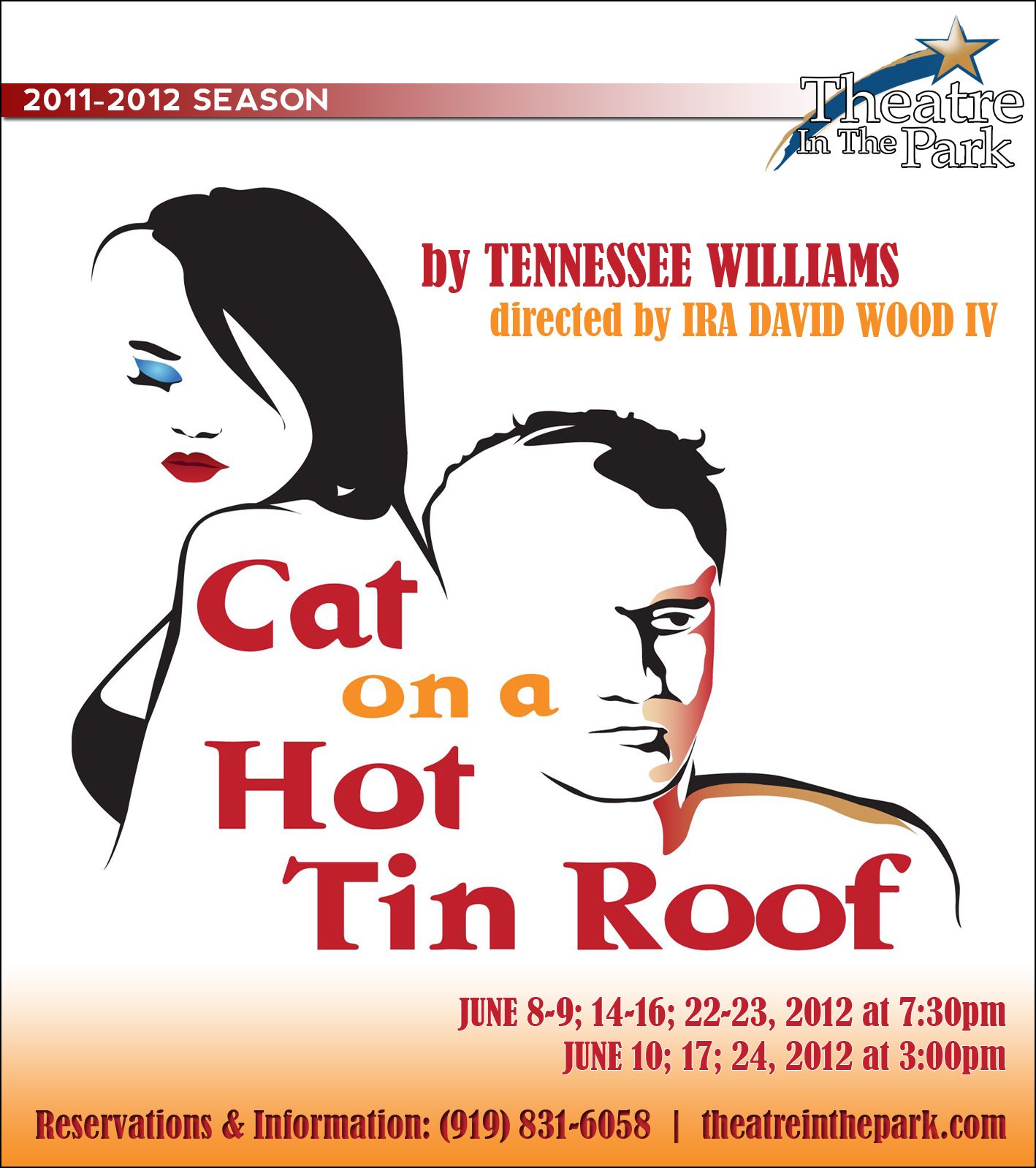 Cat on a Hot Tin Roof
by Tennessee Williams
It's a long booze-filled night under Big Daddy's plantation roof in 1950's Mississippi.  Maggie "The Cat" still burns hot for her ex-football star husband Brick, but he only has eyes for the bottom of a whiskey bottle. Meanwhile, Big Daddy is dying and the family vultures are swarming for a big piece if the inheritance pie.
So goes Cat on a Hot Tin Roof, by Tennessee Williams, playing at Theatre In The Park during the month of June.  Cat on Hot Tin Roof tells the story of a Southern family in crisis, especially the husband and wife Brick and Maggie, and their interaction with Brick's family over the course of one evening gathering at the family estate.  The play tackles many social issues including greed, superficiality, sexual desire, repression, and death. 
"Just as no two snowflakes are the same, no two productions of this play are the same. The dynamic changes with each new approach," says director Ira David Wood IV.  Wood has chosen a traditional approach, keeping the setting in the same era that Tennessee Williams intended, 1950's Mississippi. "With the three lead characters being so intense and dramatic it opens a lot of doors for a cast and director to make the show a power house.  It's a script that when executed correctly will have the audience on the edge of their seats."
Ira David Wood IV has assembled a stellar cast for Theatre In The Park's latest production.  The show features Sarah Bosquet, as Maggie "The Cat" and Rob Rainbolt as her husband Brick.  Both actors last worked together in Theatre In The Park's Noises off.  Triangle theatre veteran Jack Hall will play Pollitt family patriarch, Big Daddy.  The show also features Annabel Bloom, Dempsey Bond, Randy Jordan, Brook North, Bonnie Roe, Mike Rumble, Erin Tito, and JaCynthia Wallace.
"It's sometimes rare to get the chance to 'catch lighting in a bottle' with dramas in the Triangle, especially with a show by Tennessee Williams," comments Wood.  "Some may argue it's hard to not just float by with such wonderful dialogue by Mr. Williams. This is just simply not the case. The emotional level of the cast is always in high demand.  They have to bring it night after night and keep flexing the muscles that are not just on their bodies but in their hearts and souls.  It can be an exhausting process for the cast, but it's paying off for them and will certainly pay off for the audience to enjoy."
June, 2012

8-9, 14-16 & 22-23
7:30pm
Theatre In The Park

June, 2012

10, 17 & 24
3:00pm
Theatre In The Park