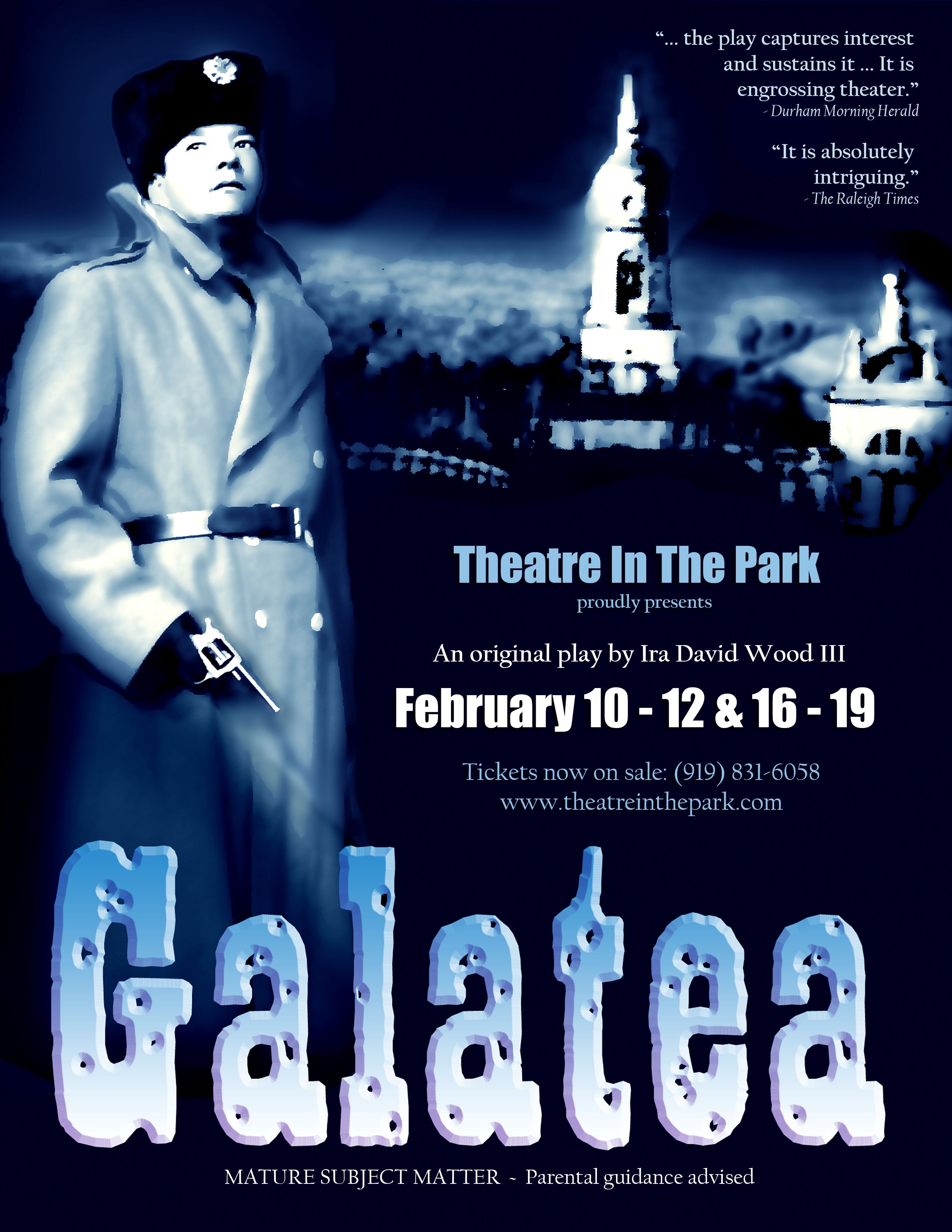 Galatea
by Ira David Wood III
"Let us be children of the light and tell the ages who we were."
Mystery, History, Murder and Love A Heady Combination in 
Ira David Wood III's GALATEA
Raleigh, North Carolina—It's been nineteen years since Ira David Wood III's original gripping play about Nicholas Sokolov's investigation into the murders of Tsar Nicholas II and family in Ykaterinburg, Siberia graced the stage at Theatre In The Park. But, back by popular demand, in a season of highly requested Wood originals, Galatea returns to the stage to interest a new generation of theatergoers in the the volatile history of the Russian Revolution.
The story opposes intellect and reason with violence and expediency: Sokolov's rational assignment, to prove that the Romanovs are dead, carried out for purposes of propaganda in the midst of rising chaos--chaos let loose by rationalism in the first place.
"Assassinations scarred my generation," said Wood. "I remain fascinated by the subject. Some of my subsequent research into the Kennedy assassination has been published in the book, Murder in Dealey Plaza. I've written a play about John Wilkes Booth that naturally delves into the Lincoln assassination. Galatea is about the aftermath of the assassination of the Romanovs. I suppose it's fair to say the subject of assassination has staked a claim to some corner of my psyche."
The major thesis in Galatea is fiction, but woven around true historical fact and based upon the lives of real people. In one sense, it is a detective story about one indiscouragable investigator's obsession with finding out what really happened to Russian Tsar Nicholas II and his family. On the other hand, it is also a story about Love--Sokolov's deep relationship with the girl in a faded photograph. Is she alive or dead? Sokolov's real struggle begins once he uncovers the truth. He has been warned that "nothing will be what it seems."
"The haunting mystery enveloping the fate of the Russian imperial family is still as impenetrable as it is intriguing. The case for the murder rests entirely on circumstantial evidence," notes Wood. "No undisputed witnesses to the crime were ever found. Only recently have the bodies been recovered and identified. Two bodies are not accounted for."
Galatea draws the viewer through the enigmatic resolution of the story, satisfying both recorded history and the romantic desire to believe ... Using the device of having Sokolov double as narrator, the play captures interest and sustains it through some scenes that are themselves assaults on senses and sensibilities.
One final word from Wood: "If you enjoy the television series, CSI, and books like Where's Waldo, Galatea will certainly appeal to you. Even if you enjoyed playing hide and seek as a child, you should be entertained by this play. It's based on one of the greatest mysteries of the 20th century."
Starring Eric Carl  (Nicholas Sokolov);  Jason Weeks  (Admiral Alexander Kolchak); Janis K. Coville (Natalya Kolya); Caitlin Radford (Anna); Chris Brown (Boris Soloviev); Thomas Porter (Anatoly Yakimov); James Miller (Dmitri Volkov); and Bob Martin (Karl Strovka).
PERFORMANCE DATES: Friday, Feb. 10 at 8 PM (opening reception catered by Bear Rock Cafe); Saturday, Feb. 11 at 8 PM; Sunday, Feb. 12 at 3 PM; Thursday, Feb. 16 at 8 PM (audio description from Arts Access); Friday, Feb. 17 at 8 PM (post-show discussion with Dr. Sharon Kowalsky from UNC Center for Slavic, Eurasian and East European Studies); Saturday, Feb. 18 at 3 PM & 8 PM; and Sunday, Feb. 19 at 3 PM. Tickets are now on sale: call (919) 831-6058 to reserve your seats.