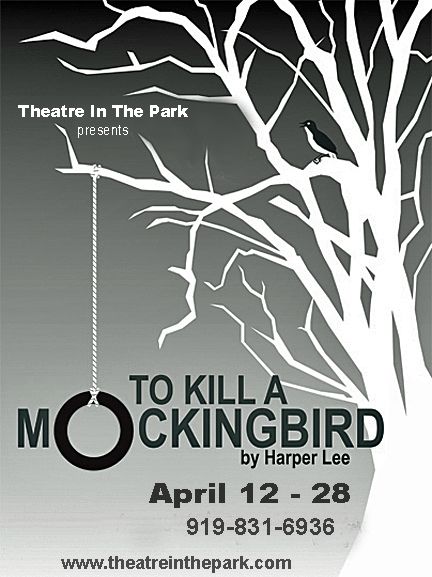 To Kill a Mockingbird
by Harper Lee
Adapted by Christopher Sergel
Harper Lee's To Kill A Mockingbird, the unforgettable story of childhood in a sleepy Southern town and the crisis of conscience that rocked it; Compassionate, dramatic, and deeply moving, To Kill a Mockingbird takes you to the roots of human behavior, to innocence and experience, kindness and cruelty, love and hatred, humor and pathos.

By popular demand, Ira David Wood, critically acclaimed for his portrayal of Atticus Finch at Fort Worth's Casa Manana Theatre, will once again assume the role for Triangle audiences at Theatre In The Park this April. Wood will also direct. In 2011 Mr. Wood stepped into the Fort Worth production to replace an actor due to illness. "I am looking forward to reprising the role of Atticus Finch and bringing To Kill A Mockingbird to the Theatre In The Park stage", says Wood, "So many people have been touched by Harper Lee's words and by the film that it is exciting to share this story through a different medium."

This production, adapted for the stage by Christopher Sergel, follows 6-year-old Scout Finch; her older brother, Jem; and their widowed father Atticus, a lawyer appointed by the court to defend a black man accused of raping a young white woman. The children learn important lessons about racial tolerance, class, and courage, as well as an individual's power to do right in the face of overwhelming wrong.
Ira David Wood has assembled a stellar cast for this production. Marleigh Purgar-McDonald and Austin Spero will make their Theatre In The Park debuts as Scout and Jem. "This show hinges on the kids and luckily we have some truly remarkable young actors," says Wood.

Triangle theatre veterans Mike Raab, Kelly McConkey, Danny Norris, Kathy Norris, and Randy Jordan will serve as the residents of Maycomb, Alabama during the Great Depression. Juanda Holley will make her return to the Theatre In The Park stage as Calpurnia, the Finch family housekeeper.

"Even though the story was written over 50 years ago, there are still lessons that can be learned and applied today", says Wood. "Some of the same issues still exist. Racism, gender bias, prejudging, and social mores are still prevalent", he says. "We are living in difficult times, and communicating values and social responsibility is difficult but ultimately rewarding. In this play we see caring and compassion through the eyes of children and learn important lessons we can apply to our own lives. We are also reminded that when things look bleak, people with integrity who are willing to take a stand like Atticus do exist, and maybe we can find that inside of us all."
April, 2013

12-13, 18-20 & 26-27
7:30pm
Theatre In The Park

April, 2013

14; 21 & 28
3:00pm
Theatre In The Park