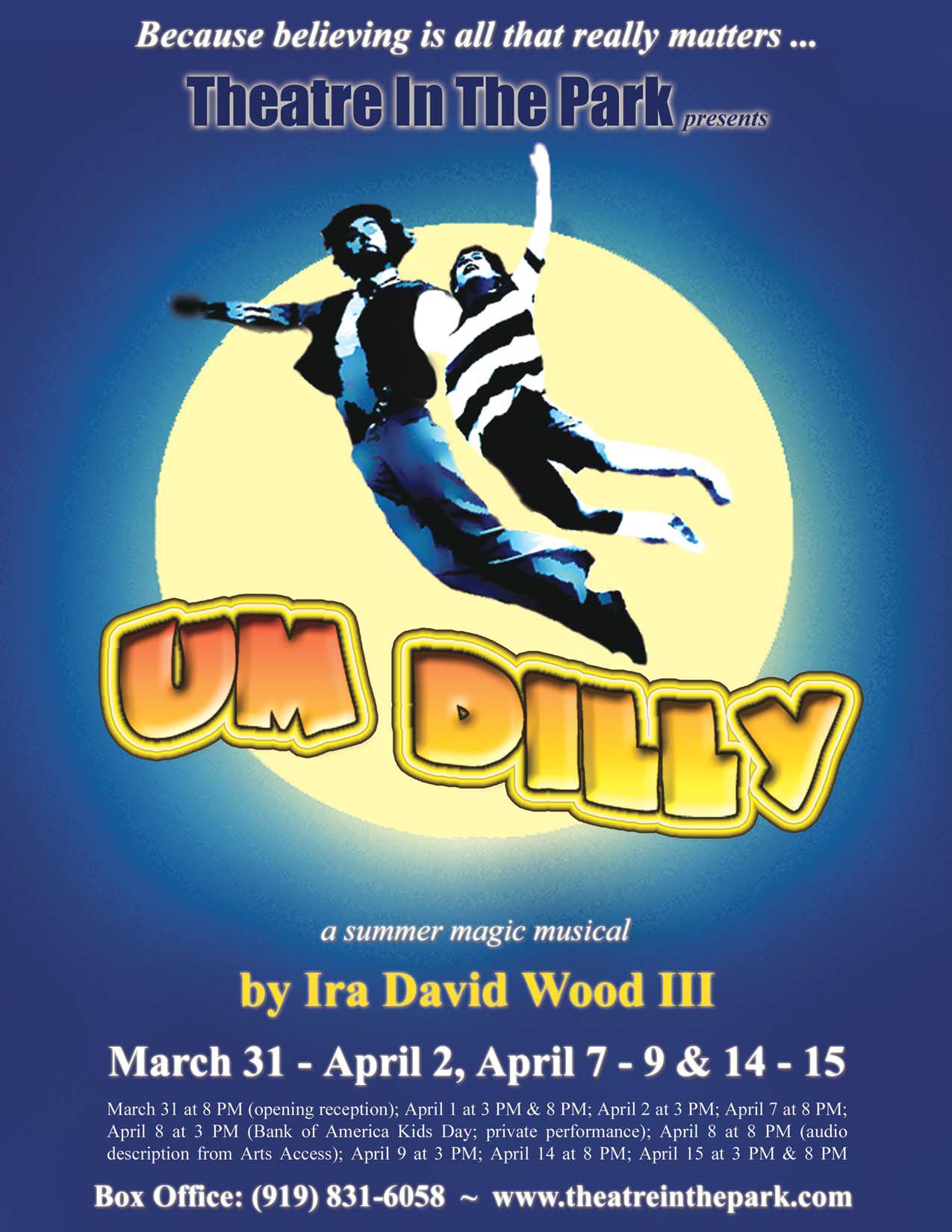 Um Dilly
by Ira David Wood III
Ira David Wood III's UM DILLY ... It's Magical. It's Musical. It's An Um Dilly!

Um Dilly is the first play written by Ira David Wood III, premiering in an old elementary school in Manteo, NC in 1969 when he was a college student spending the summer performing in Paul Green's outdoor drama, The Lost Colony.

"It was a hot summer night and a half hour before the curtain was set to go up. William Ivy Long, my costumer and set designer, sat together on the front steps of the school house. Terry Mann, one of the Um Dilly castmembers, came outside to wish me luck. A few more minutes ticked by," said Wood, smiling while reminiscing. "Suddenly, one car pulled into the parking lot. A few minutes later, another car arrived. Then another ... and another. It was one of the most profoundly moving moments of my life—the realization that hundreds of people were coming to see something I had written and directed."

"Broadway director, Joe Layton, saw the production and gave the script and music a glowing review. Another unforgettable moment ... knowing your work had been accepted by people whose opinion you deeply respected."

Following its premiere, Um Dilly was annually performed on Saturday afternoons in Manteo for three years. Later, it saw production runs around the country, from Hollywood, CA, to Raleigh, NC. It was first staged at Theatre In The Park during the 70s.

Throughout its current 2005/06 season, Theatre In The Park has been celebrating the artistic achievement of Wood, who has been producing original plays for the past three decades. Five plays are included in the celebration: A Christmas Carol (December 05); Galatea (February); Um Dilly (March/April); Eros & Illinois (May); and Briarpatch (July/August).

"When I was asked to present a selection of my works this year, Um Dilly was an easy choice. It's a little different from TIP's usual theatre fare, but I thought our audience might enjoy it. It's been an opportunity for a group of young people to come together and learn a bit about performing."

Um Dilly is about adjusting. It's about taking loneliness and healing it through the application of imagination. "The message is delightfully wrapped in the trimmings of a family musical about a bunch of neighborhood kids who get together to play backlot baseball while growing up in the 50s," noted Wood. We've all been kids and we've all lived, however briefly, in that wonderful world of imagination. That's the common link that binds us to the play as well as to each other. Not a bad thing to be reminded of now and then."

Um Dilly features: Navar Dyer, Neven Dyer, Hannah Goetz, Eddie Hardy, Ruffin Hicks, Caylee Hobson, Conner Hobson, Alexander Hoffman, Josh Long, Amaya Lynn, Lance Martinez, Patty Mercer, Lily Caroline Rashid, Emily Schmid, Brian Scott, Callie Stephenson, Sydney ter Avest, Samuel Elliotte Whisnant, and Sarah Zimmer.

PERFORMANCE SCHEDULE March 31 at 8 PM (opening reception); April 1 at 3 PM & 8 PM; April 2 at 3 PM; April 7 at 8 PM; April 8 at 3 PM (Bank of America Kids Day; private performance); April 8 at 8 PM (audio description from Arts Access); April 9 at 3 PM; April 14 at 8 PM; April 15 at 3 PM & 8 PM