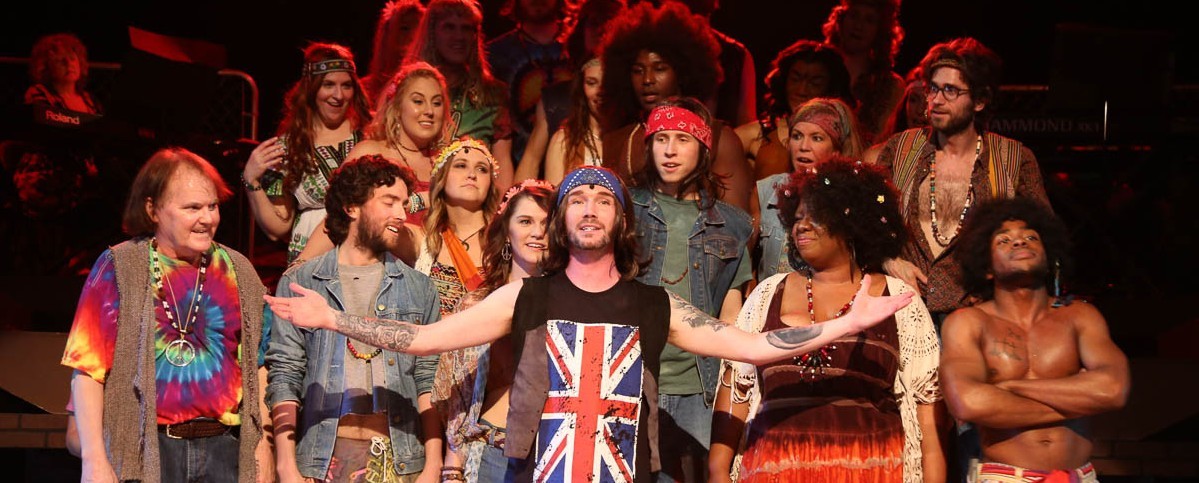 Theatre In The Park is dedicated to casting the best actors for each role regardless of gender, ethnicity, sexual orientation, body type, or age. Theatre In The Park strives to be inclusive and accommodating to people of all abilities, please let us know if we can make something more accessible. TIP will respect everyone's preferred pronouns. ​​
​Click here to join our audition mailing list
---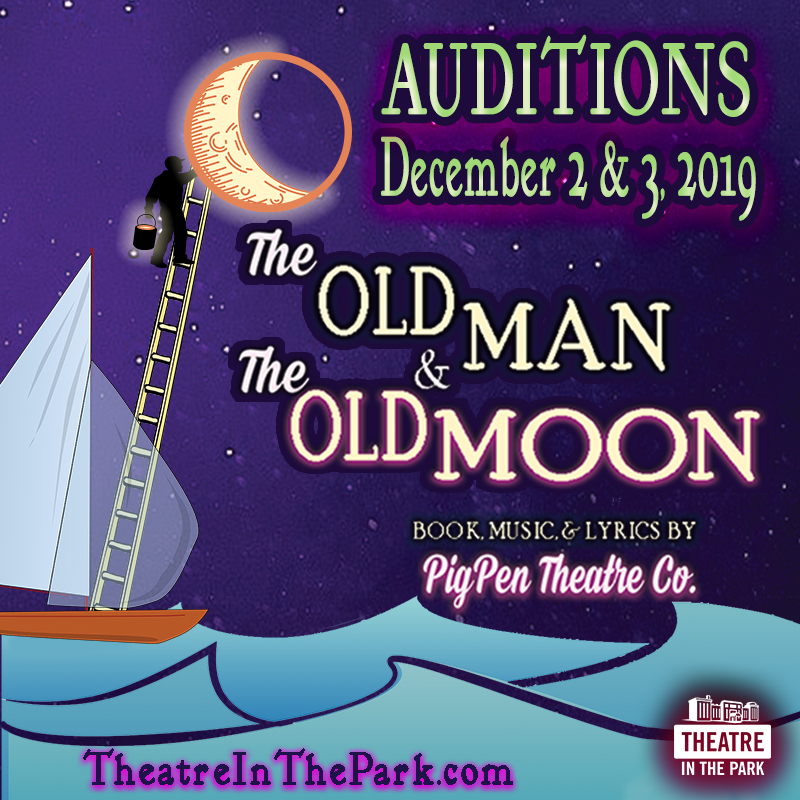 AUDITION INFORMATION
The Old Man and the Old Moon, the musical
(Large cast version, Triangle Premiere)
"… DIY wonder that's so infectious you almost want to leap onstage to join in the fun. That desire to be part of the action is particularly acute…since the audience is mostly made up of families, and children are naturals in the imagination department. But don't make the mistake of dismissing The Old Man and the Old Moon as a kids' show. It's a transcendent theatrical experience for all ages that proves you don't need to look for magic in the moon: It's already right in front of you."(Time Out- New York)
Important dates
Auditions (singing, movement, monologues): Monday and Tuesday, December 2 and 3, at Jaycee Community Center, 2405 Wade Ave., Raleigh 27607. Sign-ups/paperwork 7:00 pm. Orientation and movement audition promptly at 7:30. Those interested in puppeteer roles can participate in the movement audition, and do not need to sing.
Callbacks: Saturday December 7, 10am – 1pm at the Jaycee Community Center.
Rehearsals: Cast will have a handful of music rehearsals the month of December. Then, rehearsals begin full-force beginning January 6. Rehearsals take place on weeknight evenings and weekend afternoons. The rehearsal schedule will be based on cast conflicts and will be finalized after casting.
Tech rehearsals: Begin Saturday Feb 8 and continue through the week until opening night. Attendance required. No conflicts are allowed after February 7.
Performances:
February 2020
14-15, 20-22, 28-29 at 7:30pm
16 & 23 at 3pm March 2020 1 at 3pm
About the show:
The Old Man and The Old Moon is a magical story, centered on a man whose job is to collect spilled light to refill the leaking moon. When his wife unexpectedly leaves home in pursuit of much-needed adventure, he abandons his post to follow her, throwing the world into chaos as he searches for his lost love, his fading memory and, ultimately, himself. A blend of resonant storytelling, spirited indie-folk music and inventive puppetry creates a theatrical experience that will win audiences over with its wit, style and depth of emotion.
A perusal script, a song list, and song samples are available online at: broadwaylicensing.com
About the roles
All roles in The Old Man and the Old Moon are open to adult actors of all ages, without regard to gender. Some roles require a strong singing voice. In this large-cast version of the show, actors are not required to play an instrument. But if an actor can play an instrument, or is experienced in stage combat, that will be taken into casting consideration. Please note that the show is very flexible in terms of which actor doubles in which roles, so these character descriptions are approximate.
The Characters
THE OLD MAN:
An old man whose job it is to fill the moon with liquid light. The pursuit of his missing wife takes him on a long journey. Sings first verse of the song "I Crash".
THE YOUNG MAN:
A younger version of the Old Man appears in the Old Man's memories. The young woman and the young man dance in the first song. The Young Man sings the song, "Just Like the Sea".
THE OLD WOMAN:
An old woman who's growing tired of her life filling the moon with her husband. She leaves her home in search of a forgotten memory. May double as THE YOUNG WOMAN.
THE YOUNG WOMAN:
The Old Woman, a long time ago. The young woman and the young man dance in the first song. Sings the song, "Just Like The Sea".
MATHESON:
The first-mate of the ship and the narrator of the tale.
THE SINGER(S):
Singers from the ensemble will be assigned featured solos in "The Song From the Stone" and "Bremen", and will be determined after casting.
THE GHOST SINGER:
A dead sailor with a penchant for cabaret. Sings the "Prison Fish Interludes". Comic with a strong singing voice. Sometimes this singer is a member of the band.
LLEWELLYN:
The youngest, somewhat naïve, spirited sailor whom the Old Man mentors and takes on as an apprentice.
MABELU:
Mabelu is a sailor with a good sense of humor and the best of intentions. Mabelu lost a beloved dog, Lucy, years ago.
CALLAHAN:
An ardent sailor. Never loses a fight. A good swordfighter.
COOKIE:
An unhinged cook. Might be afraid of fire. Doubles as FISHMONGER.
CAPTAIN:
A fearless leader and most eloquent speaker.
PERRY:
A legendary hero of the imperial fleet, now an old man. First Naval Lieutenant Pericles Llewellyn McWallander was thrown overboard by his mutinous crew. Perry now resides inside the belly of a "prison fish".
SOLOMON:
A witty and rather posh aeronautical engineer. Sibling of Bartley.
PATRON:
Plays the piano but doesn't take requests.
REBEL ONE:
Rebel captain. Trying to avoid a fight. Appears in a sword fight. Stage combat experience a plus. Doubles as BOATSWAIN ONE and other walk-on roles. Assists with puppetry and scenery.
REBEL TWO:
Rebel soldier. Trying to start a fight. Appears in a sword fight. Stage combat experience a plus. Doubles as BOATSWAIN TWO and other walk-on roles. Assists with puppetry and scenery.
THE B's:
A character actor willing to take on all the B-roles below. (Also may double as Perry)
BILL, THE BUTCHER: Has an argument with the fishmonger.
BOB, THE BOATSHOP CLERK: Overwhelmed and unenthused each and everyday.
BILL, THE BARTENDER: Goes by Bill but that's not his real name.
BEN, THE STORE OWNER: Is currently sold out of everything.
BARTLEY: A witty and rather posh aeronautical engineer. Sibling of Solomon.
BEAUTIFUL LADY: She lives in town. Has a secret.
PUPPET PERFORMERS:
Two puppeteers perform multiple shadow puppet scenes, along with the following puppet characters.
MICKEY: The clerk's young assistant. Wears his grandfather's hat to work.
DOG: (a puppet) Her name is Lucy. Mabelu lost her years ago.
A ROOSTER: (a puppet) Meets his untimely demise.
The Production Team
Director/choreographer: Nancy Rich
Music Director: Katherine Anderson
Stage Manager: Christine Rapp
Production design: Nathanial Conti and Abigail Kuchar
About the auditions
The movement audition: will act as a warm-up in the form of a simple and fun sailor's folk dance! Those auditioning are asked to wear comfortable clothing and shoes suitable for movement. Actors only interested in puppeteer roles should attend the movement audition.
The singing audition: We will hear you sing in the order you have signed up. Please prepare 16 bars of an audition song in the style of the show – which is a folk or indie style. Sea shanties welcome! For reference, you can listen to a portion of the show's songs on broadwaylicensing.com. Please bring sheet music in the correct key. An accompanist on keyboard will be provided. If you'd like to accompany yourself (guitar, accordion, other) please do!
The monologue audition: Actors will be asked to perform one short monologue from the downloadable monologue collection below. Actors may also craft their own 1-minute monologue from the script available at broadwaylicensing.com.
Each actor will be released after we've heard your song and monologue.
About the callbacks:
Callbacks will be posted on the website, theatreinthepark.com before noon on Wednesday December 4. They will take place on Saturday December 7, 10am – 1pm at the Jaycee Community Center. We will do readings from the script and sing snippets of the songs from the show.
Questions about auditions? Contact Nancy Rich at Nancy@actorscomedylab.com
Audition Paperwork
Interested in auditioning? We are so glad! Sign up here, and download the following forms:
1) Audition form. (be sure to indicate if you play an instrument, have puppetry experience, or stage combat experience)
2) Conflict calendar. (list all conflicts, please). Our plan is to have a 5-day per week rehearsal schedule.