Join Our Family
Click here for the 2020 Season Membership & 2019 A Christmas Carol Order Form  
Just want to purchase a 2020 Membership? Call 919-831-6058.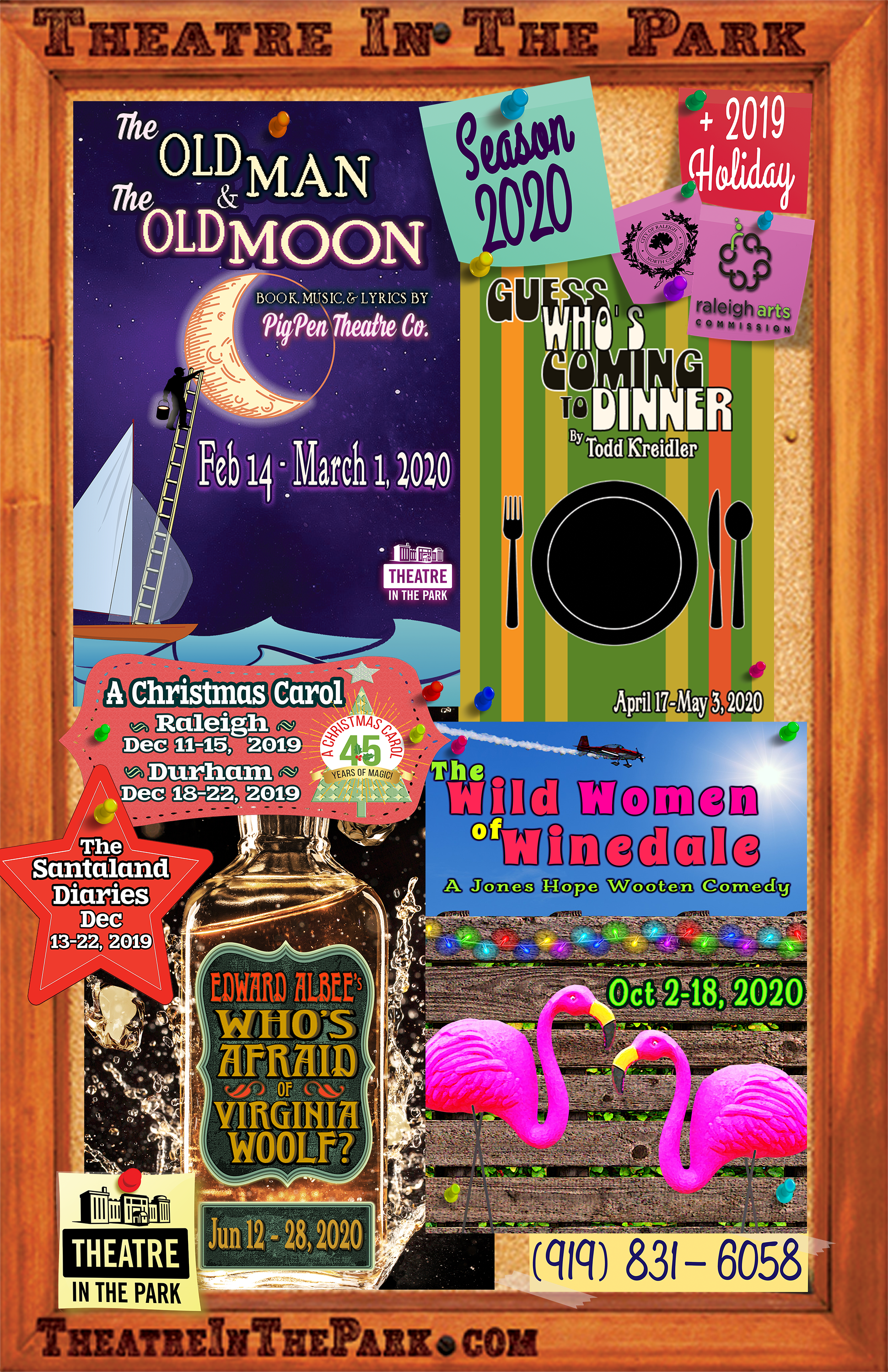 Join our family today. Subscribe and save!
Join us and experience what makes us uniquely Theatre In The Park! From our historic location in the northern end of Pullen Park ... to the celebrity of our Executive and Artistic Director, Ira David Wood III ... to 40 spectacular years of the hit musical, A Christmas Carol ... to the exceptional comedies, dramas, musicals and Shakespeare productions ... we truly have something for everyone!
As always, Season Members get first choice of A Christmas Carol tickets before they go on sale to the general public. 2019 marks the 45th anniversary of this beloved musical comedy! You must become a 2020 Season Member to benefit with advanced ticketing for A Christmas Carol.
2020 Mainstage Season
The Old Man & The Old Moon

Book, Music, and Lyrics
February 2020

14-15, 20-22, 28-29 at 7:30pm
16, 23 at 3:00pm

March 2020
The Old Man has kept his post as the sole caretaker of the moon for as long as he (or his wife, the Old Woman) can remember. When she is drawn away by a mysterious melody sparking memories of their shared past, the Old Man must decide between duty (and routine) and love (and adventure). Luckily for audiences everywhere, he chooses the latter, and what follows is an imaginative sea-faring epic, encompassing apocalyptic storms, civil wars, leviathans of the deep, and cantankerous ghosts, as well as the fiercest obstacle of all: change.
Guess Who's Coming to Dinner

by Todd Kreidlerk
April 2020

17-18, 23-25 at 7:30pm
19, 26 at 3pm

May 2020

1-2 at 7:30pm
3 at 3:00pm

When Joanna Drayton, a free-thinking white woman, and black doctor John Prentice become engaged, they travel to San Francisco to meet her parents. Matt Drayton and his wife Christina are wealthy liberals who must confront the latent racism the coming marriage arouses. Also attending the Drayton's dinner are Prentice's parents, who vehemently disapprove of the relationship. With humor and insight, Guess Who's Coming To Dinner begins a conversation sure to continue at dinner tables long after the curtain comes down.
Edward Albee's Who's Afraid of Virginia Woolf?

June 2020

12-13, 18-20, 26-27 at 7:30pm
14, 21, 28 at 3:00pm

Opportunistic new professor, Nick, and his shatteringly naïve new wife, Honey, get more than they bargained for when they're invited over for a night of drinking, debauchery and digs at the home of seemingly meek and fellow academic, George, and his guest-baiting wife, Martha. Underneath the edgy banter, which is cross-fired between both couples, lurks an undercurrent of tragedy and despair. The lengthy, high-voltage play hit Broadway like a thunderbolt in 1962, shocking and electrifying audiences and critics with its volatile language and corrosive portrayal of a rancorous American marriage.  
Winner of the 1963 Tony Award for Best Play.
 
The Wild Women of Winedale

By Jessie Jones, Nicholas Hope, and Jamie Wooten
October 2020

2-3, 8-10, 16-17  at 7:30pm
4, 11, 18 at 3:00pm

The Wild Sisters of Winedale, Virginia are at a crossroads. Fanny has a hilariously inappropriate reaction to her 60th birthday. Willa is so stressed out from her nursing job she resorts to vodka and speed-knitting. Johnnie Faye, determined to put her year of fraught widowhood behind her, desperately tries to find a man (preferably a man with a house since hers is somewhere at the bottom of a Florida sinkhole). With equal doses of hilarity and heart, these extraordinary women come up with delightful and surprisingly unorthodox ways to clear the clutter from their lives, their homes and their relationships so they can move their lives forward. Together they prove it's never too late to take another one of life's paths for a grand new adventure.
2019 Holiday Shows
IRA DAVID WOOD III'S
A CHRISTMAS CAROL
Dec 11-15, 2019 at Duke Energy Center for the Performing Arts – Raleigh, NC
Dec 18-22, 2019 at DPAC – Durham, NC
A musical comedy adaptation of the Dickens classic. The show has been performed annually since 1974 and has been named one of the "Top 20 Events in the Southeast." Cited as "one of the most successful shows in North Carolina theatre history," A Christmas Carol has enjoyed critically acclaimed tours to England and France.
With over one million people having experienced the magic of A Christmas Carolthroughout the years, the show regularly sells out. A few of its honors include being named one of the Top 20 Events In The Southeast, the Metro Ovation Award, the Triangle Arts & Entertainment Reader's Choice Award, Proclamations from the Mayor of Raleigh and the Governor of North Carolina, Proclamations from Compiegne, France and Kingston-Upon-Hull, England, and the distinct privilege of being the first theatrical production at DPAC.
THE SANTALAND DIARIES
By David Sedaris
Adapted for the Stage by Joe Mantello
Dec 13-22, 2019
Jesse Gephart returns for the 13th year spreading holiday cheer as 'Crumpet the Elf' in The Santaland Diaries. This one man show relives an out-of-work, young actor's brief stint as an elf in Macy's department store during the holiday season. Based on David Sedaris' short story, Santaland is filled with highly charged, politically incorrect, irreverent commentaries of fellow elves, Santa's true colors, and the raucous adults and children who come to visit St Nick each year. Come laugh, drink and be merry as you join us for this adult's only holiday treat that is sure to make your spirits bright!
*Not intended for children. Mature audiences only.
Purchasing A Membership
When purchasing a membership, you are purchasing 4 tickets that can be used in any combination with our Mainstage productions.  You are not required to select your seats upon purchasing your membership.  You may reserve your seats by calling our box office at 919.831.6058 or by emailing info@theatreinthepark.com.
Four different types of memberships are available:
- Adult: $106.18
- Senior (60+): $84.73
- Students: $84.73
- Active Military: $84.73
Prices include tax.
To purchase a membership click here.