Join Our Family
Click here for the 2019 Season Membership Order Form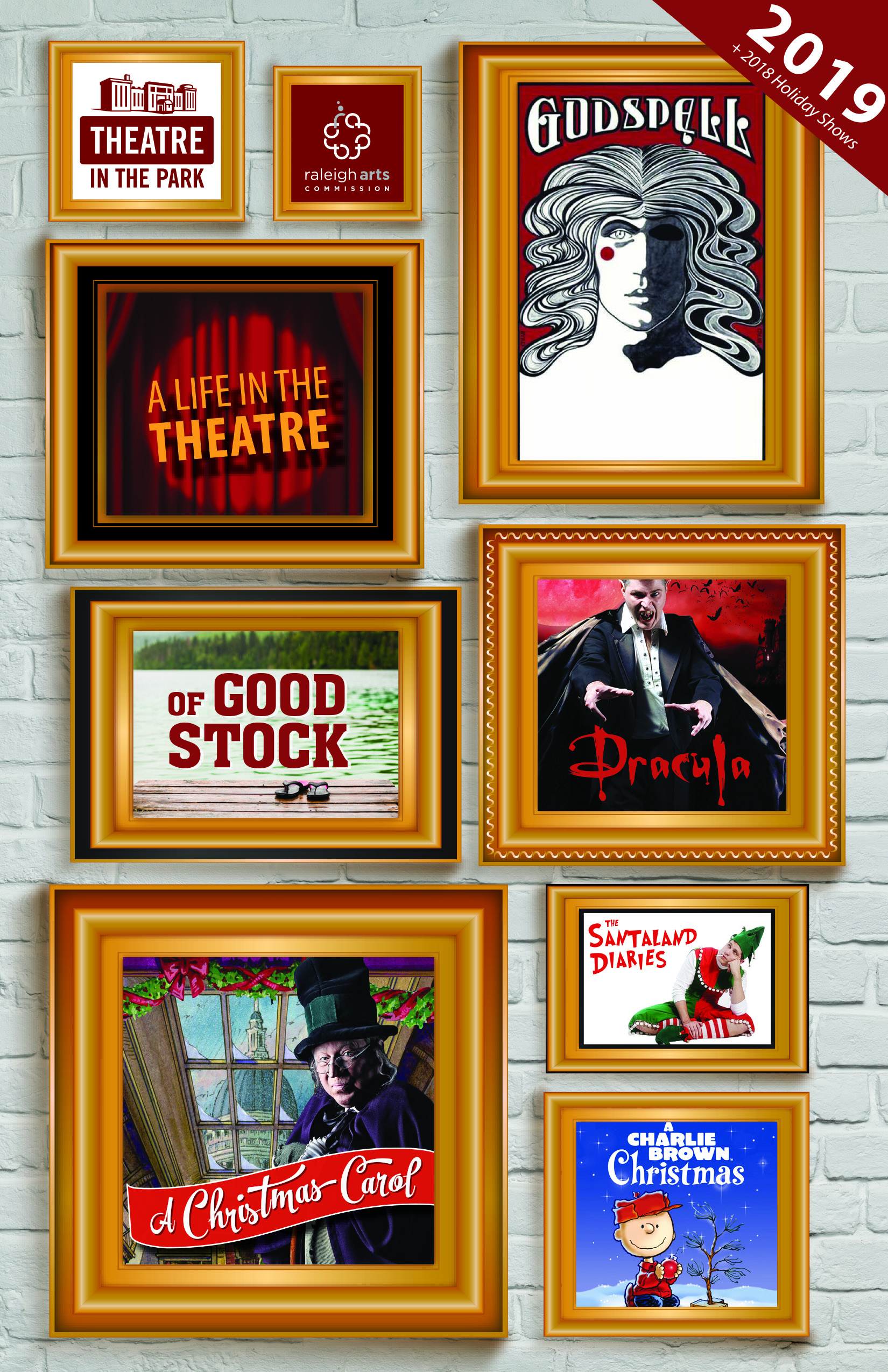 Join our family today. Subscribe and save!
Join us and experience what makes us uniquely Theatre In The Park! From our historic location in the northern end of Pullen Park ... to the celebrity of our Executive and Artistic Director, Ira David Wood III ... to 40 spectacular years of the hit musical, A Christmas Carol ... to the exceptional comedies, dramas, musicals and Shakespeare productions ... we truly have something for everyone!
As always, Season Members get first choice of A Christmas Carol tickets before they go on sale to the general public. 2018 marks the 44th anniversary of this beloved musical comedy! You must become a 2019 Season Member to benefit with advanced ticketing for A Christmas Carol.
2019 Mainstage Season
A LIFE IN THE THEATRE
By David Mamet
Starring Ira David Wood III
& Ira David Wood IV
Feb 8-24, 2019
The Pulitzer Prize-winning author of Glengarry Glen Ross and Speed-The-Plow, takes us into the lives of two actors: John, young and rising into the first flush of his success; the other Robert, older, anxious, and beginning to wane. In a series of short, spare, and increasingly raw exchanges, we see the estrangement of youth from age and the wider, inevitable and endless cycle of life, in and out of the theatre.
GODSPELL
Music & Lyrics by Stephen Schwartz
Book by John Michael Tebelak
April 12-28, 2019
Prepare ye for the timeless tale of friendship, loyalty and love! Godspell, featuring songs by Stephen Schwartz, (known for the Broadway hits Wicked and Pippin), uses song, dance and storytelling to retell the passion story and parables of the gospels. Filled with high spirited musical styles ranging from pop to vaudeville, this theatrical celebration is a reminder that kindness, tolerance and love should live vibrantly on.
OF GOOD STOCK
By Melissa Ross
June 7-23, 2019
The three Stockton sisters are witty, brilliant, beautiful – and a total mess! When their father, legendary novelist Mick Stockton died, he left his three daughters a house in Cape Cod, control over his books, and a whole lot of issues. In Melissa Ross' new play, these women gather at their family home of Cape Cod for a summer weekend. Their reunion ignites passions, humor, and wildly unanticipated upheavals. OF GOOD STOCK is a raw, poignant and hilarious look at the fun and dysfunction of that thing we call family.
DRACULA
By Bram Stoker
Adapted by Ira David Wood III
Starring Ira David Wood IV
October 4-20, 2019
Back by popular demand! Ira David Wood III adapts Bram Stocker's gothic tale of the world's most famous vampire.
All of the familiar characters are here – Dr. Seward, Lucy, Van Helsing, Renfield, and of course, the mysterious and charming Count Dracula.
Dracula delves into the shadows, peers into the souls of men, and discovers the truth of hidden monsters lurking underneath the false veneer of Victorian society and norms.
Click here for 2019 Order Form
2018 Add-On Holiday Shows
A CHARLIE BROWN CHRISTMAS
By Charles M. Schulz
Based on the television special by Bill Melendez and Lee Mendelson
Stage Adaptation by Eric Schaeffer
By Special Arrangement with Arthur Whitelaw and Ruby Persson
Nov 30-Dec 9
*Sensory-Friendly Performance Dec 8 at 11am*
When Charlie Brown complains about the overwhelming materialism he sees among everyone during the Christmas season, Lucy suggests that he become director of the school Christmas pageant. He accepts, but this proves to be a frustrating endeavor. When an attempt to restore the proper holiday spirit with a forlorn little fir tree fails, he needs Linus' help to discover the real meaning of Christmas.
IRA DAVID WOOD III'S
A CHRISTMAS CAROL
Dec 5-9 at Duke Energy Center for the Performing Arts – Raleigh, NC
Dec 12-16 at DPAC – Durham, NC
A musical comedy adaptation of the Dickens classic. The show has been performed annually since 1974 and has been named one of the "Top 20 Events in the Southeast." Cited as "one of the most successful shows in North Carolina theatre history," A Christmas Carol has enjoyed critically acclaimed tours to England and France.
With over one million people having experienced the magic of A Christmas Carolthroughout the years, the show regularly sells out. A few of its honors include being named one of the Top 20 Events In The Southeast, the Metro Ovation Award, the Triangle Arts & Entertainment Reader's Choice Award, Proclamations from the Mayor of Raleigh and the Governor of North Carolina, Proclamations from Compiegne, France and Kingston-Upon-Hull, England, and the distinct privilege of being the first theatrical production at DPAC.
THE SANTALAND DIARIES
By David Sedaris
Adapted for the Stage by Joe Mantello
Dec 14-23
Jesse Gephart returns for the 12th year spreading holiday cheer as 'Crumpet the Elf' in The Santaland Diaries. This one man show relives an out-of-work, young actor's brief stint as an elf in Macy's department store during the holiday season. Based on David Sedaris' short story, Santaland is filled with highly charged, politically incorrect, irreverent commentaries of fellow elves, Santa's true colors, and the raucous adults and children who come to visit St Nick each year. Come laugh, drink and be merry as you join us for this adult's only holiday treat that is sure to make your spirits bright!
*Not intended for children. Mature audiences only.
Purchasing A Membership
When purchasing a membership, you are purchasing 4 tickets that can be used in any combination with our Mainstage productions.  You are not required to select your seats upon purchasing your membership.  You may reserve your seats by calling our box office at 919.831.6058 or by emailing andrea@theatreinthepark.com.
Four different types of memberships are available:
- Adult: $99
- Senior (60+): $79
- Students: $79
- Active Military: $79
Please Note: Per recent legislation from the NCGA, ALL memberships and individual tickets are subject to sales tax.
To purchase a membership click here.