Theatre In The Park Announces:
2020 Mainstage Season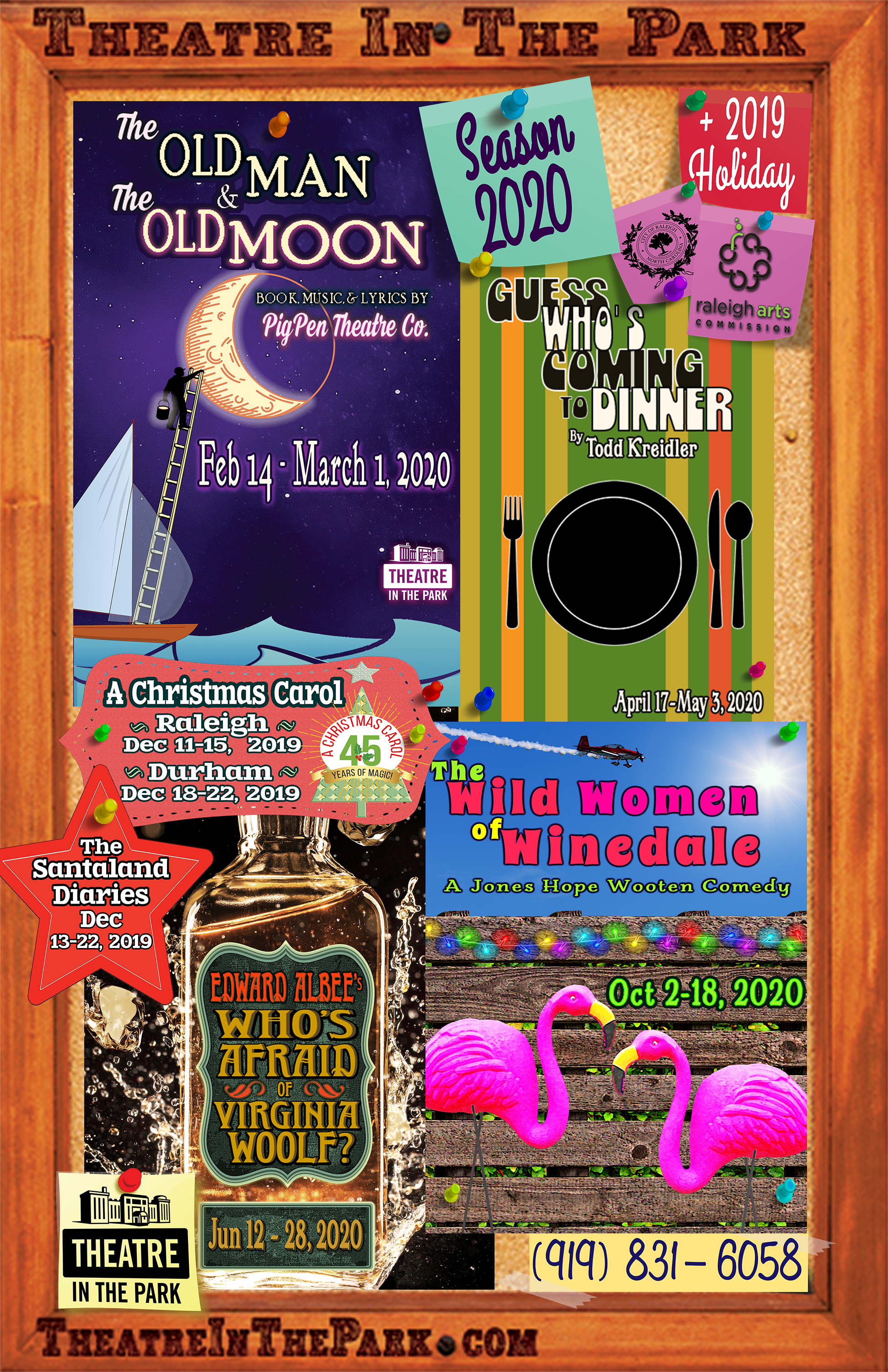 2020 Mainstage Season
The Old Man & The Old Moon
BOOK, MUSIC AND LYRICS BY PIGPEN THEATRE CO.

Show Dates
February 2020
14-15, 20-22, 28-29 at 7:30pm
16 & 23 at 3pm

March 2020
1 at 3pm

The Old Man has kept his post as the sole caretaker of the moon for as long as he (or his wife) can remember. When his wife is drawn away by a mysterious melody sparking memories of their shared past, the Old Man must decide between duty (and routine) and love (and adventure). What follows is an imaginative sea-faring epic, encompassing apocalyptic storms, civil wars, leviathans of the deep, and cantankerous ghosts, as well as the fiercest obstacle of all: change.

 
Guess Who's Coming to Dinner
BY TODD KREIDLER

Show Dates
April 2020
17-18 & 23-25 at 7:30pm
19 & 26 at 3pm

May 2020
1-2 at 7:30pm
3 at 3pm

1967. Joanna Drayton and John Prentice are in love and are excited to announce their engagement. When the two families come together to meet, neither set of parents is happy about the match. They quickly come to realize the difference between supporting a mixed-race couple in your newspaper and welcoming one into your family. It's not long before a multi-family clash of racial and generational difference sweeps across the Drayton's terrace.
Edward Albee's Who's Afraid of Virginia Woolf?

Show Dates
June 2020
12-13, 18-20, 26-27 at 7:30pm
14, 21, 28 at 3pm

Nick and Honey get more than they bargained for when they're invited over for a night of drinking, debauchery and digs at the home of fellow academic, George, and his  wife, Martha. Underneath the edgy banter, which is cross-fired between both couples, lurks an undercurrent of tragedy and despair. Shocking and electrifying audiences and critics with its volatile language and corrosive portrayal of a rancorous American marriage since 1962.   Winner of the 1963 Tony Award for Best Play.
The Wild Women of Winedale
BY JESSIE JONES, NICHOLAS HOPE, AND JAMIE WOOTEN

Show Dates
October 2020
2-3, 8-10, 16-17 at 7:30pm
4, 11, 18 at 3pm

The sisters of Winedale are at a crossroads. Fanny has a odd reaction to her 60th birthday. Willa is stressed to the point of vodka and speed-knitting. Johnnie Faye is determined to put her put herself back on the market and find a man. (Preferably one with a house since hers is at the bottom of a Florida sinkhole). Together, they find a way to clear the clutter from their lives, their homes and their relationships and prove it's never too late to take another one of life's paths.