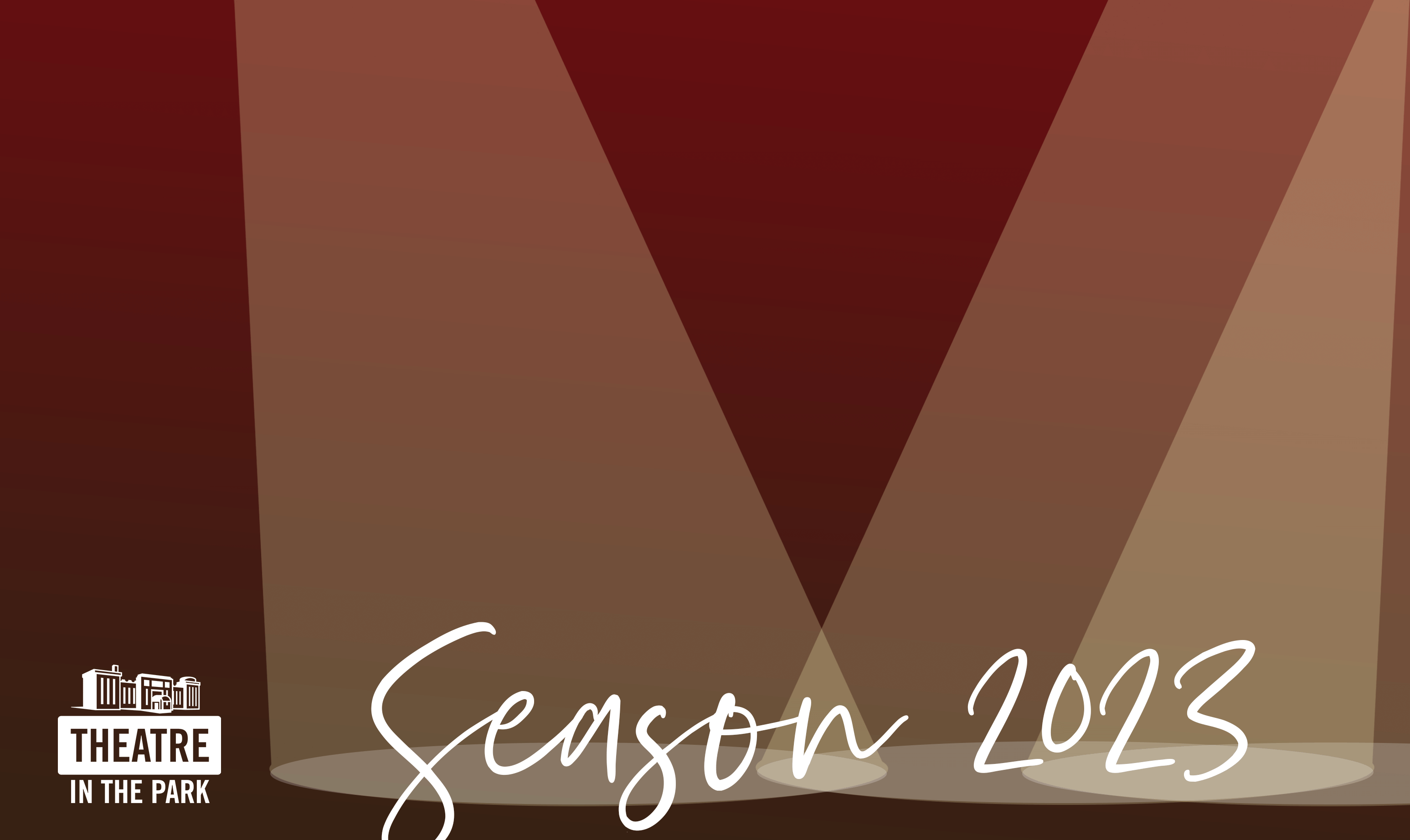 Welcome to Theatre In The Park's 2023 season! Last year we received such wonderful feedback about what you would like to see on our stage that we have decided to shape our season around your suggestions. Thus, 2023 is all about YOU, our patrons, audience members, and friends. Please explore what we have to offer below!
Season Memberships for the 2023 season are now available. Become a member today and save!
Want to learn more? Download our 2023 Season Brochure to get the full scoop on our upcoming season.
Stay up to Date! Join our mailing list to keep up with all things Theatre In The Park!
2023 Mainstage Season
---
Forbidden Broadway's Greatest Hits
Books & Lyrics by Gerard Alessandrini
February 16-18, 23-25 at 7:30 PM | February 19 & 26 at 3:00 PM
 In this long-running Off-Broadway hit musical revue, Broadway's greatest musical legends meet Broadway's greatest satirist in this hilarious, loving, and endlessly entertaining tribute to some of the theatre's greatest stars and songwriters. This production will fall under our "musical" category for single ticket pricing.
Inherit The Wind
By Jerome Lawrence & Robert E. Lee
April 13-15, 20-22 at 7:30 PM | April 16 & 23 at 3:00 PM
This is the play that has its genesis in the events of the famous Scopes trial. One of the most outstanding dramas of our time. "The portrait it draws of an explosive episode in American culture, vigorously written by Jerome Lawrence and Robert E. Lee, remains as fresh as it ever was. One of the most stirring plays in recent years retains its folk flavor and spiritual awareness…Bursting with vitality…Literature of the stage!" -NY Times.
Raleigh
By Ira David Wood III
June 8-10, 15-17 at 7:30 PM | June 11 & 18 at 3:00 PM
Queen Elizabeth is dead and her favorite courtier, Sir Walter Raleigh, is facing the executioner's blade. Larger-than-life, Raleigh meets his fate with wit and aplomb, despite a court of vipers and a jealous king intent on bringing his downfall. "...Ira David Wood III has given audiences many memorable moments. But none perhaps is so poignant - or so uniquely his own - as Theatre In The Park's stage biography of Sir Walter Raleigh." -Raleigh Times
Noises Off!
By Michael Frayn
August 10-12, 17-19 at 7:30 PM | August 13 & 20 at 3:00 PM
Called "the funniest farce ever written," Noises Off! presents a manic menagerie of itinerant actors rehearsing a flop called Nothing's On. Doors slamming, on and offstage intrigue, and an errant herring all figure in the plot of this hilarious and classically comic play. One of our most requested shows!
The Legend of Sleepy Hollow
By John Heimbuch & Jon Ferguson
October 5-7, 12-14 at 7:30 PM | October 8 & 15 at 3:00
In the quaint village of Sleepy Hollow, stories of wonder and strangeness surround the legend of a mighty headless Hessian. When the humble schoolteacher Ichabod Crane vies for the hand of the beautiful Katrina Van Tassel, the townsfolk might protest, but it is ultimately the Horseman who will decide Ichabod's fate.