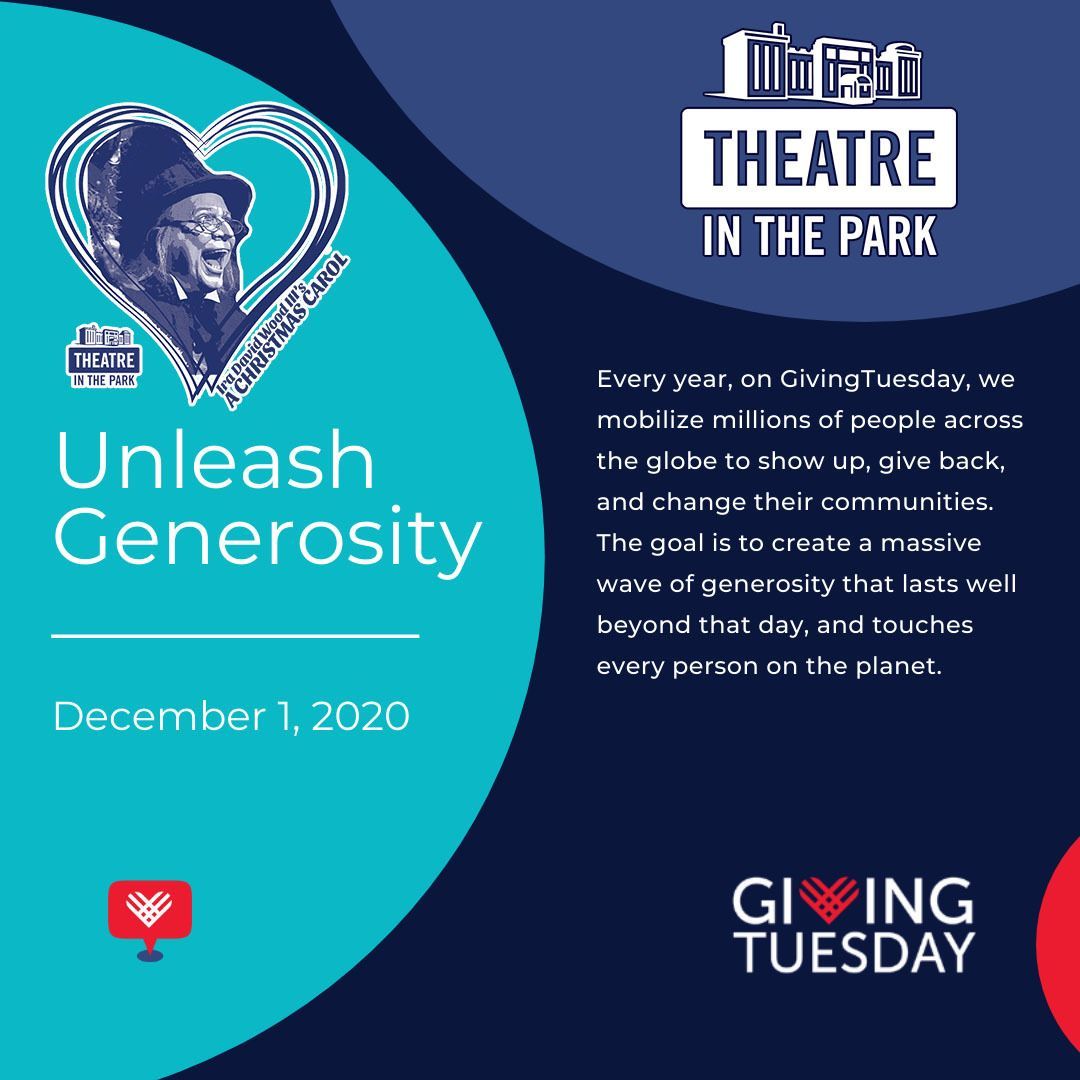 #GivingTuesday is a global day of giving and unity. GivingTuesday strives to build a world in which the catalytic power of generosity is at the heart of the society we build together, unlocking dignity, opportunity, and equity around the globe.

2020 has been a difficult and heartbreaking year. We miss gathering in our shared space to experience the magic of theatre. We are so thankful that you've stuck it out with us and cannot thank you enough for your continued support and kind words through this extraordinary time.

Like so many others, our theatre has been hit hard due to the current pandemic and we've had to adapt. This virus has interrupted all of our lives. For us that meant cancelling two productions, educational offerings, and staged readings.

We have all had to adapt and grow during this pandemic and Theatre In The Park is no exception. Our staff, alongside some very talented local artists, have continued to work throughout the year. We were so happy that we were able to produce and stream our production of The Wild Women of Winedale in October. While due to safety reasons we could not gather to record, but we were able to put together a streaming production of Ira David Wood III's A Christmas Carol (which starts streaming today!). We all need a little Christmas and it's just not the Holidays without you.

We have so many exciting things planned for our upcoming season that we cannot wait to share with you! Right now our space is dark, but we keep the light on as a symbol that we'll return. Hopefully we can be together again soon - in person - at our shared space.

In these uncertain times art becomes a beacon and a balm that reminds us that there will be a rainbow after this storm passes. We encourage you, if you are able, to give to your local arts community and help keep the hope alive.
There are many ways that you can give:
Make a direct donation here
Host a fundraiser on your Facebook page

On #GivingTuesday Dec 1, Facebook will match $7 million in qualifying donations.

Amazon Shopping

AmazonSmile is the same Amazon you know. Same products, same prices, same service. After the initial set up, all you do is shop Amazon Smile and Amazon will donate for you

Initial set up your free AmazonSmile charity here and for every purchase on Amazon, they will donate 0.5% of the price of your eligible AmazonSmile purchases to Theatre In The park
If you already have AmazonSmile set up and want to change your charity to Theatre In The Park, go to your Amazon Smile account, hover over "Accounts & Lists' and select 'Your AmazonSmile'

Change charity and search for Theatre In The Park, Inc Raleigh

Sending us a testimonial that we can use for marketing
Follow us on facebook & share our posts to your friends on social media
Please consider contributing to Theatre In The Park to fund the magic that takes place at the theatre everyday.
We miss you! Stay safe.
-Theatre In The Park