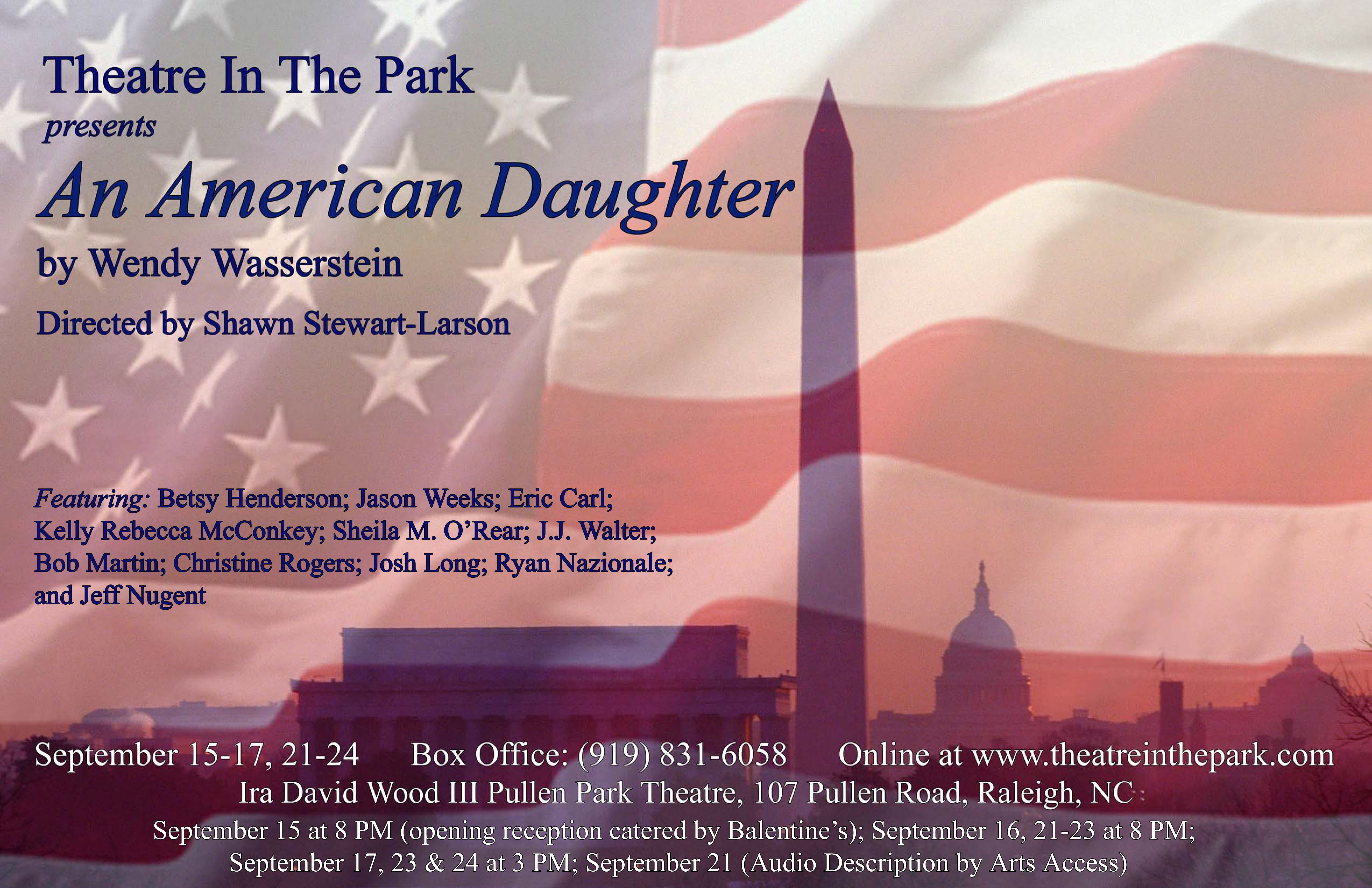 An American Daughter
by Wendy Wasserstein
Theatre In The Park Presents Wendy Wasserstein's AN AMERICAN DAUGHTER

Theatre In The Park kicks off its 2006/2007 production season with Wendy Wasserstein's witty political drama, An American Daughter. True to her own style and interest in candidly portraying the marriage, motherhood and choices facing women today, An American Daughter focuses on the life of one woman, Dr. Lyssa Dent Hughes.

Rather than grouping her characters into a universal value system that assumes that all women strive for the same things, Wasserstein has set An American Daughter in Washington, DC and focuses on Dr. Lyssa Dent Hughes, a health care expert and daughter of a long-time Senator. When Lyssa is nominated by the President to be Surgeon General, a trivial event from her past is discovered. The media turns it into a scandal, which imperils her confirmation and divides her family and friends, forcing her to make a decision—continue to pursue the post and face an ugly Senate hearing, or decline the nomination, becoming a sacrificial lamb for the President.

"My selection of this play was made to showcase the brilliant writing of one of the American theatre's best female playwrights, Wendy Wasserstein," said Shawn Stewart-Larson, who is directing An American Daughter. "She died too young from lymphoma earlier this year, and while the presentation of this play stands as a tribute to her memory, her heroine has a voice that seems so familiar to me."

And it's this personal connection that seems to be a common reaction to many who appreciate a Wasserstein play. In 1989, Wasserstein won a Tony Award and a Pulitzer Prize for her play, The Heidi Chronicles, and has been described by The New York Times as "a chronicler of women's identity crises." Her work is timely and relevant, wry and smart.