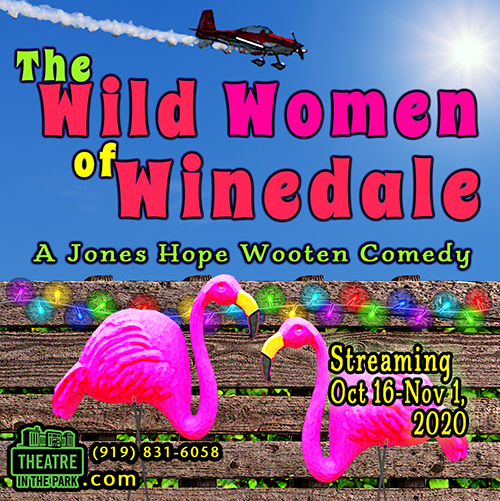 The Wild Women of Winedale
BY JESSIE JONES, NICHOLAS HOPE, AND JAMIE WOOTEN
The sisters of Winedale are at a crossroads. Fanny has a odd reaction to her 60th birthday. Willa is stressed to the point of vodka and speed-knitting. Johnnie Faye is determined to put her put herself back on the market and find a man. (Preferably one with a house since hers is at the bottom of a Florida sinkhole). Together, they find a way to clear the clutter from their lives, their homes and their relationships and prove it's never too late to take another one of life's paths.
Show Dates

October 2020
16-17, 22-24, 30-31 at 7:30pm
18, 25 at 3pm

November 2020
1 at 3pm

All performances of this production will stream to your devices.
Pricing

Individual - $16.00

Household - $40.00

2020 Season Members - Please contact the Box Office at 919-831-6058 or Info@TheatreInThePark.com

Prices listed above are base ticket prices. Applicable taxes will be added at checkout.