Theatre In The Park Announces:
2021 Mainstage Season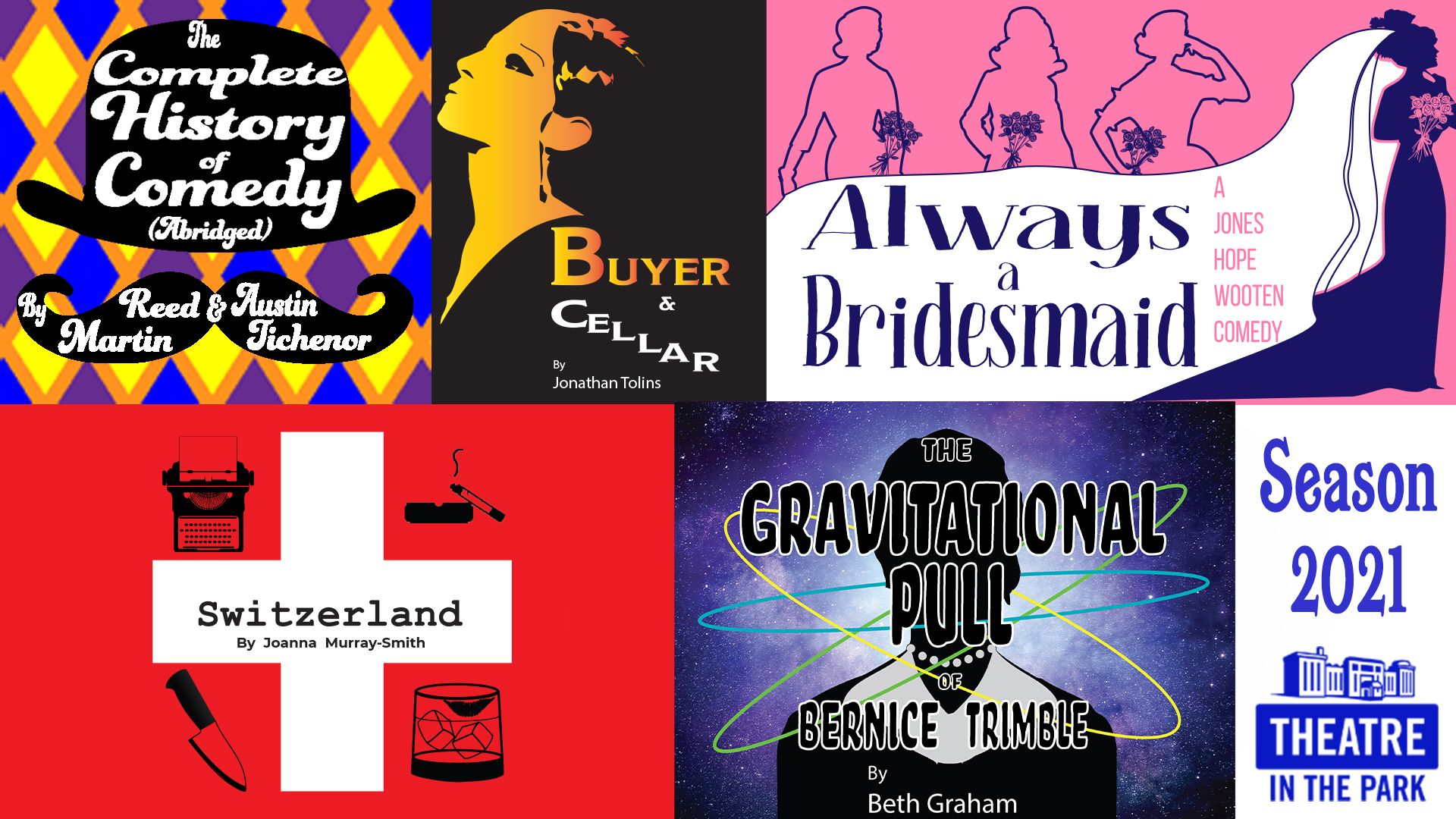 Click here to order 2021 Season Memberships
Single Ticket Sales begin January 2021
2021 Mainstage Season

The Complete History of Comedy (abridged)
By Reed Martin & Austin Tichenor

Show Dates
February 2021
26-27 at 7:30pm
28 at 3pm

March 2021
4-6, 12-13  at 7:30pm
7 & 14 at 3pm

From the high-brow to the low, The Complete History of Comedy (abridged) covers comedy through the ages, from Aristophanes and Shakespeare and Molière to Vaudeville and Charlie Chaplin to The Daily Show.
"The Complete History of Comedy (abridged) - is a madcap, breakneck-speed [90 minutes]. Audacious, often outrageaous & bawdy, the frantic pacing of Comedy reminds you of an old- time burlesque or vaudeville revenue." - Boston Stages

 
Buyer & Cellar
By Jonathan Tolins

Show Dates
April 2021
9-10, 15-17, 23-24 at 7:30pm
11, 18, 25 at 3pm

Alex More has a story to tell. A struggling actor in L.A., he takes a job working in the Malibu basement of a beloved megastar. One day, the Lady Herself comes downstairs to play. It feels like real bonding in the basement, but will their relationship ever make it upstairs? Buyer & Cellar is an outrageous comedy about the price of fame, the cost of things, and the oddest of odd jobs.
**One Man Show Starring Jesse Gephart!



Always a Bridesmaid
A Jones Hope Wooten Comedy

Show Dates
June 2021
4-5, 10-12, 18-19 at 7:30pm
6, 13, 20 at 3pm

In this hilarious comedy, four friends have sworn to keep the promise they made on the night of their Senior Prom: to be in each other's weddings…no matter what. More than thirty years later, these Southern friends-for-life are still making "the long walk" for each other, determined to honor that vow. Always a Bridesmaid is the lively tale of four loyal and determined women who definitively answer the question, "Just how far are you willing to go to keep a promise to a friend?" If you've ever elbowed a stranger out of the way to catch a bride's bouquet, seriously questioned the mental stability of the duo saying "I do" or been forced to wear the world's ugliest bridesmaid dress, this deliriously funny comedy is definitely for you…and your dearly beloved!
 


Switzerland
By Joanna Murray-Smith

Show Dates
July 2021
30-31 at 7:30pm
August 2021
5-7, 13-14 at 7:30pm
1, 8, 15 at 3pm

Somewhere in the Swiss Alps, grande dame of crime literature Patricia Highsmith lives with an impressive collection of books, and a somewhat sinister collection of guns and knives. She finds solace in her solitude, her cats, and cigarettes. But when a mysterious international visitor arrives at her perfectly secluded home, her love of fictional murders becomes a dangerous reality.
**Directed by & Starring Lynda Clark
The Gravitational Pull of Bernice Trimble
By Beth Graham

Show Dates
October 2021
1-2, 7-9, 15-16 at 7:30pm
3, 10, 17 at 3pm

"Gravity is a good hugger – it keeps you from flying off the earth and hurtling through space."
Iris Trimble is trying to hold it all together. She may very well fly off the face of the earth if she doesn't hang on to the kitchen counter. At least that's how she feels after her mother, Bernice, a lively, recently widowed 55-year-old, breaks the news that she has early onset Alzheimer's. In an effort to cope with the stress, Iris makes her mother's famous Everything-That-Is-Bad-For-You casserole, a childhood favorite. Her siblings, on the other hand, are on opposite sides of the spectrum: Sara, the eldest, irately calls for a second opinion, while Peter, the youngest, seems completely unfazed. As for Bernice, she's still as vivacious as ever, always up for a good laugh and, most of all, ready to finally put herself first.
**Directed by Jesse Gephart