Theatre In The Park Announces:
2019 Mainstage Season

A Note From Our Executive & Artistic Director
Welcome to Theatre In The Park!
We are thrilled to have you join us for our exciting 2019 season. If this is your first experience with us, we invite you to take full advantage of all our offerings and look forward to welcoming you into our Theatre family. If you are returning season member, we are extremely grateful for your continued support of Theatre In The Park and offer a sincere THANK YOU. Your membership enables us to continue providing our local community with award winning live theatre, one of a kind special events and on stage and off opportunities for local performing, technical and visual artists. We truly offer something for everyone and look forward to saving you a seat!
Ira David Wood III 
Executive & Artistic Director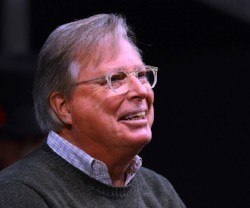 ---
Click here for the 2019 Season Memberships & 2018 A Christmas Carol Ticket Order Form
2019 Mainstage Season
A LIFE IN THE THEATRE
By David Mamet
Starring Ira David Wood III
& Ira David Wood IV
February 
8-9, 14-16, 22-23 at 7:30pm
10, 17, 24 at 3pm
The Pulitzer Prize-winning author of Glengarry Glen Ross and Speed-The-Plow, takes us into the lives of two actors: John, young and rising into the first flush of his success; the other Robert, older, anxious, and beginning to wane. In a series of short, spare, and increasingly raw exchanges, we see the estrangement of youth from age and the wider, inevitable and endless cycle of life, in and out of the theatre.
GODSPELL
Music & Lyrics by Stephen Schwartz
Book by John Michael Tebelak
April 
12-13, 18-20, 26-27 at 7:30pm
14, 21, 28 at 3pm
Prepare ye for the timeless tale of friendship, loyalty and love! Godspell, featuring songs by Stephen Schwartz, (known for the Broadway hits Wicked and Pippin), uses song, dance and storytelling to retell the passion story and parables of the gospels. Filled with high spirited musical styles ranging from pop to vaudeville, this theatrical celebration is a reminder that kindness, tolerance and love should live vibrantly on.
OF GOOD STOCK
By Melissa Ross
June 
7-8, 13-15, 21-22 at 7:30pm
9, 16, 23 at 3pm
The three Stockton sisters are witty, brilliant, beautiful – and a total mess! When their father, legendary novelist Mick Stockton died, he left his three daughters a house in Cape Cod, control over his books, and a whole lot of issues. In Melissa Ross' new play, these women gather at their family home of Cape Cod for a summer weekend. Their reunion ignites passions, humor, and wildly unanticipated upheavals. OF GOOD STOCK is a raw, poignant and hilarious look at the fun and dysfunction of that thing we call family.
DRACULA
By Bram Stoker
Adapted by Ira David Wood III
Starring Ira David Wood IV
October 2019
4-5, 10-12, 18-19  at 7:30pm
6, 13, 20 at 3:00pm
Back by popular demand! Ira David Wood III adapts Bram Stocker's gothic tale of the world's most famous vampire.
All of the familiar characters are here – Dr. Seward, Lucy, Van Helsing, Renfield, and of course, the mysterious and charming Count Dracula.
Dracula delves into the shadows, peers into the souls of men, and discovers the truth of hidden monsters lurking underneath the false veneer of Victorian society and norms.