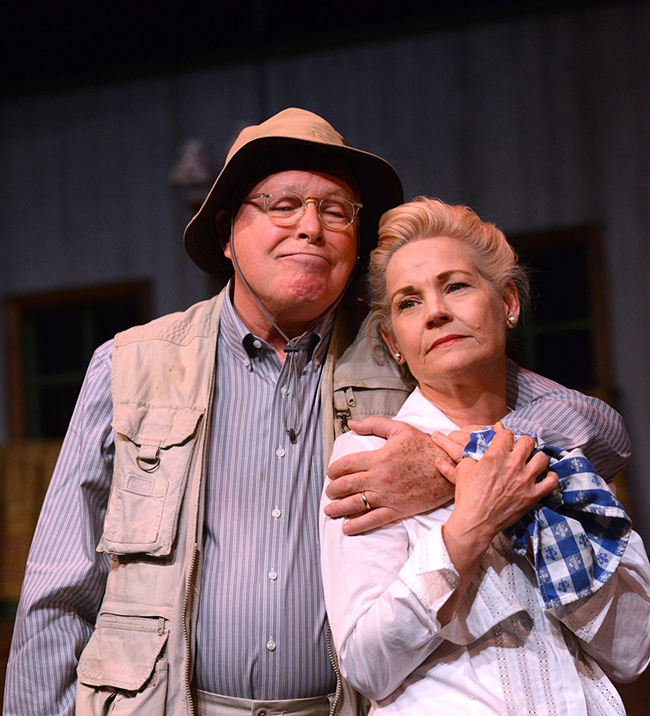 Join our family today. Subscribe and save!
Join us and experience what makes us uniquely Theatre In The Park! From our historic location in the northern end of Pullen Park ... to the celebrity of our Executive and Artistic Director, Ira David Wood III ... to 40 spectacular years of the hit musical, A Christmas Carol ... to the exceptional comedies, dramas, musicals and Shakespeare productions ... we truly have something for everyone!
As always, Season Members get first choice of A Christmas Carol tickets before they go on sale to the general public. 2018 marks the 44th anniversary of this beloved musical comedy! You must become a 2019 Season Member to benefit with advanced ticketing for A Christmas Carol.
2019 Mainstage Production Schedule
Details are still being finalized. Check back soon!
2018 Mainstage Production Schedule
ASSASSINS 
Feb. 23 - March 11, 2018
Music & Lyrics by Stephen Sondheim   
Book by John Weidman
Stephen Sondheim and John Weidman examine the motivations of the men and women who have killed - or attempted to kill - U.S. Presidents throughout history.  John Wilkes Booth, Lee Harvey Oswald, John Hinckley and others meet and interact in this revue-style musical.  Bold, original, disturbing and alarmingly funny.  The music varies to reflect the popular music of the eras depicted.
HAND TO GOD 
April 20 - May 6, 2018
By Robert Askins
Be not deceived: The devil is lurking at the Christian Puppet Ministry in Cypress, Texas. And his name is … Tyrone. He may look like an innocent sock puppet, but when he infiltrates the angst-ridden church youth group and takes possession of Jason's arm, all hell breaks loose! If BOOK OF MORMON and AVENUE Q had a baby, this would be it!
IT SHOULDA BEEN YOU 
June 15 - July 1, 2018
Music by Barbara Anselmi
Book & Lyrics by Brian Hargrove
This charming, funny and original new musical invites you to a wedding day that you'll never forget, where anything that can go wrong does, and love pops up in mysterious places. The bride is Jewish. The groom is Catholic. Her mother is a force of nature. His mother is a tempest in a cocktail shaker. And when the bride's ex-boyfriend crashes the party, the perfect wedding starts to unravel. A 90-minute laugh-riot!
IT'S ONLY A PLAY 
August 10 - 26, 2018
By Terrence McNally
It's opening night of Peter Austin's new play as he anxiously awaits to see if his show is a hit.  With his career on the line, he shares his big First Night with his best friend, a television star, his fledgling producer, his erratic leading lady, his wunderkind director, an infamous drama critic, and a wide-eyes coat check attendant on his first night in Manhattan.  It's raucous, ridiculous and tender — reminds us why there's no business like show business.
IT IS DONE 
October 5 - 21, 2018
By Alex Goldberg
Inside a desolate bar in the middle of nowhere, bartender Hand and his only customers, Jonas, a man on the run, and Ruby, a mysterious woman on a mission, settle in for a long evening to ride out a windstorm. Trapped together, seemingly innocent conversation escalates into life or death struggles as past secrets are revealed. A great Halloween treat! For mature audiences only.
Purchasing A Membership
When purchasing a membership, you are purchasing 5 tickets that can be used in any combination with our Mainstage productions.  You are not required to select your seats upon purchasing your membership.  You may reserve your seats by calling our box office at 919.831.6058 or by emailing andrea@theatreinthepark.com.
Four different types of memberships are available:
- Adult: $99
- Senior (60+): $79
- Students: $79
- Active Military: $79
Please Note: Per recent legislation from the NCGA, ALL memberships and individual tickets are subject to sales tax.
To purchase a membership click here.